US 20 Journey 2010
|
home




Twenty Days On Route 20

2nd Printing Now Available!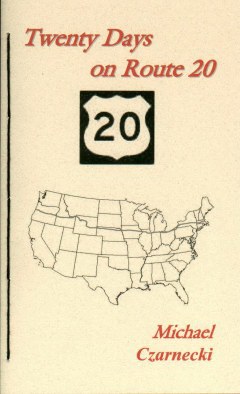 In 1971, Michael Czarnecki bought a backpack, tent and sleeping bag, put out his thumb and over the next five years hitchhiked 30,000 miles through the northeastern United States and Canada. 25 years later, he again took off on the road, this time on a twenty day solo journey across America in an old, beat 1983 Honda Civic Wagon. Leaving family and friends behind, Michael set off to cross the country for the very first time.
Twenty Days on Route 20 chronicles that first time crossing of America. The account is written in haibun, a Japanese literary form combining condensed prose and haiku. Matsuo Basho, Japan's great 17th century haiku master, wrote his classic travel sagas in haibun. Now, more than 300 years later, Michael uses that same form to chronicle his pilgrimage across this vast continent.
Starting from Boston, Route 20 traverses the northern third of the country, through a varied American landscape: rolling hills of New York State; mid-America farmland and villages; sprawling, bustling Chicago; Mississippi and Missouri rivers; Nebraska sandhills; Wyoming plateau country; Yellowstone National Park; lava fields; high desert; Cascade Mountains and finally, the Pacific.
Michael barters for motel rooms, explores small towns, cities and countryside, gives poetry readings, encounters raven and coyote and observes the country slowly unfolding as the road leads forever west.
This second printing 10 years after the journey, contains some slight revisions of the original text and brings back into print a fascinating journey across America on the longest US Route in the country.
From the book:
As I sat eating my meal I began considering where I would sleep for the night. KC's Corner Restaurant & Motel - hmmm! This was a low budget journey and I couldn't be spending much money on places to sleep. The second night out was too early to succumb to the temptation of a soft, comfortable bed in a motel. Then one of those sudden inspirations came to me - why not barter for a room!
I hesitatingly walked up to the owner of KC's and explained my journey to him. I mentioned that I would be writing a book and that if he let me use a room for the night I would acknowledge KC's on the acknowledgement page and then give him enough books to cover the cost of the room. To my surprise he immediately accepted the offer! This spontaneous idea changed the whole character of the rest of the trip.
I had never done this before, barter writings for lodgings. Felt a little bit like Vachel Lindsay, the early 20th Century poet from Springfield, Illinois. I remember reading his work as a junior in high school and being excited to learn that he went on walking trips, exchanging rhymes for room and board. Poetry had real world value! So now, 30 years later, here I was in a comfortable room because of someone's willingness to accept written words for payment. Mr. Kerr, if only you could know how as a teacher you changed my life!
*************************
Stopped at Hot Springs State Park in Thermopolis to soak in the Bath House. A 19th century treaty between the federal government and the Arapaho and Shoshone stipulated that the waters from this mineral spring be made available to the public for free. The 104 degree water in the Bath House can be enjoyed for 20 minutes without charge, so I rented a swimsuit, 75¢, and had a great soak for the allotted time.
mineral hot springs
Arapaho, Shoshone
my body thanks you
An employee at the Bath House told me they may start charging for use of the facilities. When I mentioned the treaty she said that the treaty was between the federal government and the natives. It's a state park now and they aren't bound by the treaty. It goes on and on and on.
*********************
ISBN 0-941053-01-6

76 page paperback, hand-sewn, with flat spine.
$10.00
TO ORDERTwenty Days on Route 20 ON-LINE
To order books by mail
send the total price plus shipping.
Shipping Charges
To United States addresses
Total purchase price less than $20
$1.75 Shipping
to each address sent to.
Total purchase price more than $20.00
$3.50 Shipping
to each address sent to.
(New York State Residents please add 8% sales tax.)
To Addresses Outside of the United States
Total purchase price less than $20
$3.50 Shipping
to each address sent to.
Total purchase price more than $20.00
$5.00 Shipping
to each address sent to.
Send orders to:
FootHills Publishing
PO Box 68
Kanona, NY 14856
Thank you!