US 20 Journey 2010
|
home




US 20 Journey 2010

2011 - Day 3 - May 22
Chicago to Dubuque, IA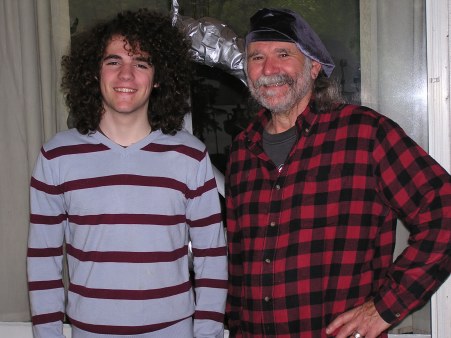 Charlie Rossiter and his son Jack. Great visit with them overnight. Jack is a musician and will be playing on the streets of Chicago for the summer.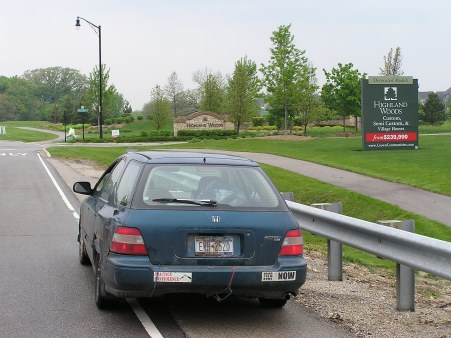 One of the many new and planned housing developments
along 20 in Illlinois that is gobbling up agricultiral land.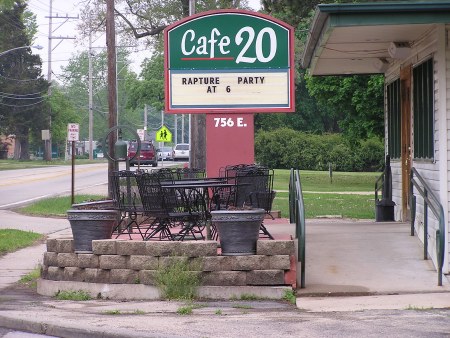 Another Route 20 business. I assume they had a good time at the party.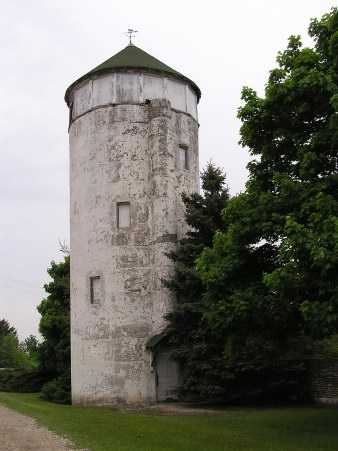 Unique old silo on 20 just before Garden Prairie, IL.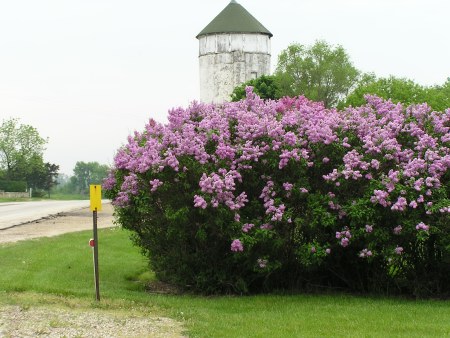 Silo and lilacs along 20. Lilacs in full bloom today.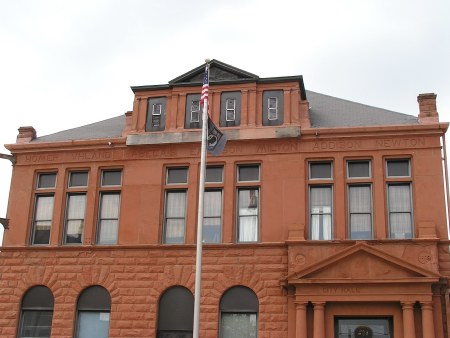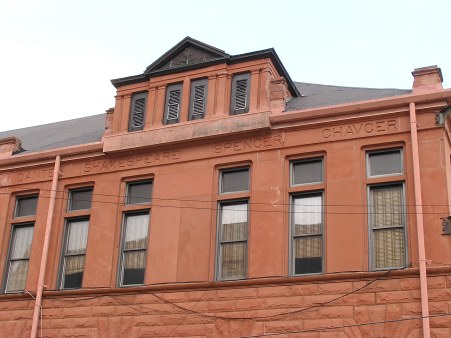 Freeport city hall. Honoring great thinkers and writers throughout history.
Built in 1898.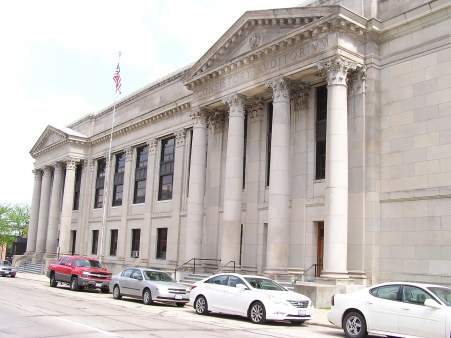 A block from city hall this mammoth Temple of Free Masonry.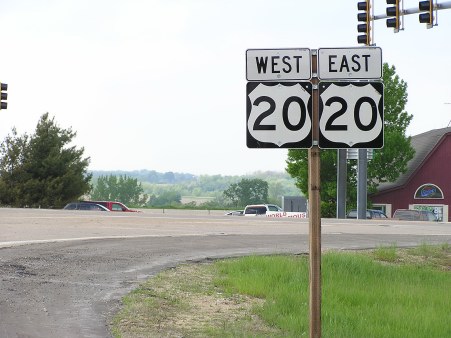 Sign at end of Business 20, west of Freeport. Without pointing arrows (East was left, West, right) I thought for a moment that I might be going both directions at once.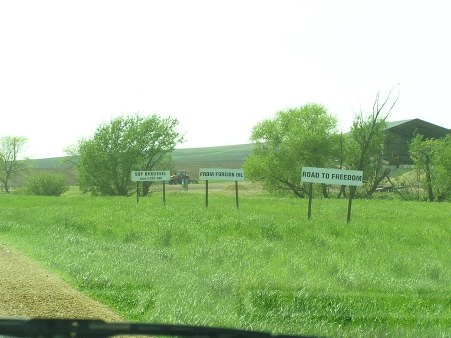 Mini-Burma Shave type signage.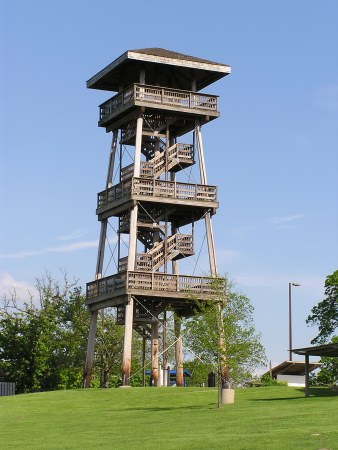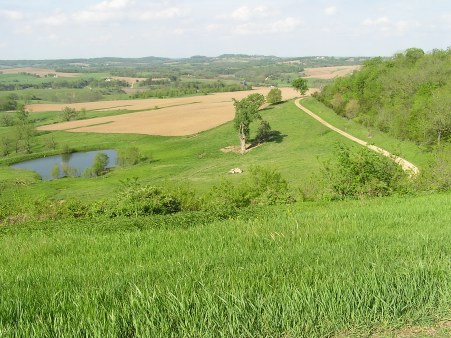 A tower along 20 that I've climbed many times. Unfortunately, it is now closed. The bottom level of stairs has been taken out. This is along a ridge that 20 follows before alena. Beautiful views of the countryside from the top. the right pic is from the road.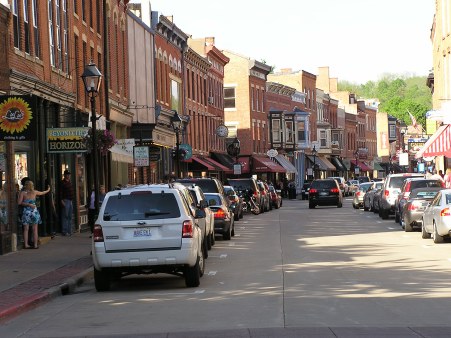 Galena. A beautiful historic town. I still feel about it the way I did in 1996. This from "Twenty Days on Route 20":
Galena, a quaint historic town near the Mississippi. Home of General Grant and eight other Civil War generals. The town has beautifully preserved its 19th century character. I took a walk down Main Street and then out over a graceful arched walking bridge that spans the Galena River. I felt like I didn't want to stay here too long though, too much of a market feel to it with just about all the buildings housing retail shops or restaurants.
brick buildings line street
storefronts displaying things, things
loose change in pocket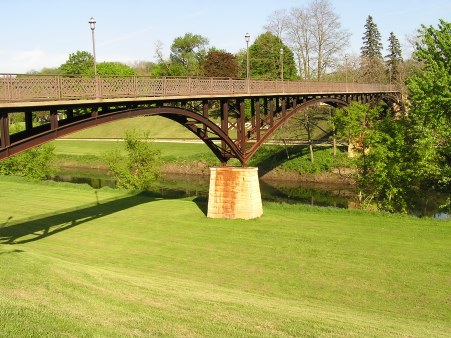 The arched bridge.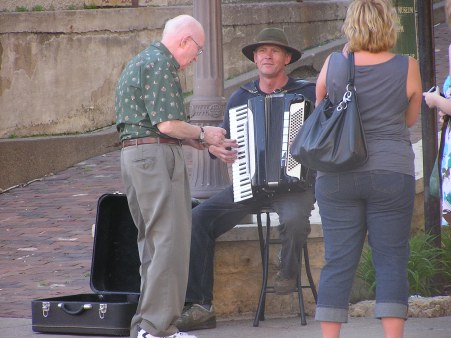 under leafy tree
accordian street busker
case collects dollars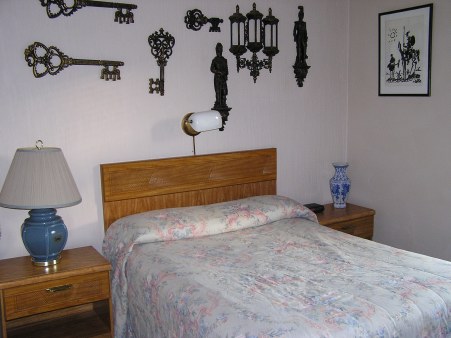 Canfield Hotel. I'll be staying here for the next couple of nights, compliments of the owner, Bob. I bartered for a room here back in 1996. Had a wonderful talk with him in the lobby about poetry, education, philosophy. An intriguing person and a hotel full of character.
Again, from "Twenty Days on Route 20":
I walk down the dark night streets back to the Canfield. The landmark downtown hotel has been renovated but still retains its old charm. A fourth floor room with tub, porcelain sink, two cushioned chairs, end tables, table lamps. A comfortable, century-ago feeling. I imagine how many people have stayed in the hotel over the years. How many moving west like I am, driving route 20 across the plains and on out into the mountains, maybe even all the way to the Pacific?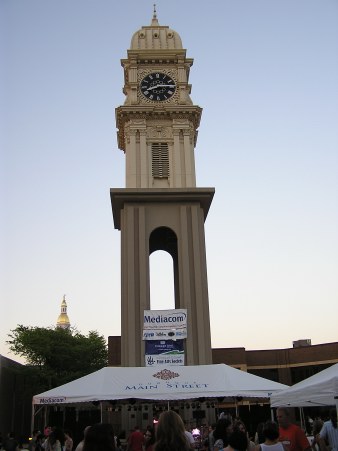 DubuqueFest Fine Arts Festival happening this weekend. An art show and then live music in the evening. Food and beer vendors (I had organic veggie egg rolls - excellent - no beer), crowd of mixed ages, from little babies to seniors, all enjoying a festive perfect spring evening.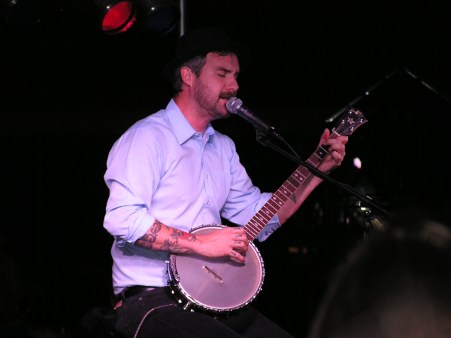 William Elliot Whitmore played at night. A good bluesy singer/songwriter from Iowa who has had a number of releases over the years. Worth checking out.
A poem:
At DubuqueFest
(May 21, 2011)
Chimney swifts dart above
a gold dome glitters in late day light
live music begins on the stage
people crowd up closer
bodies sway, feet tap, hands clap.
I sit off to side, observing
first song ends, loud cheers, applause
"This next song's about a flood"
as the clear evening sky slowly darkens
nearby Mississippi quietly flows on.
Then back to the Canfield for a good night's rest and a busy Sunday ahead.