US 20 Journey 2010
|
home




US 20 Journey 2010

2011 - Day 5 - May 23
Dubuque, Iowa to South Sioux City, Nebraska
After a full day of staying in one place yesterday, today was the longest single day mileage of the journey. Because of having a reading in South Sioux City and staying an extra night in Dubuque, I needed to travel a little over 300 miles today. Fortunately, also unfortunately, 20 has been improved for 2/3 of the way across Iowa into a divided highway. Much faster getting across the state, but also the small towns are bypassed. I felt a little disappointed I didn't have the time to explore some of these towns I like. But, there are always choices to make on a journey lkike this. One can't stop everywhere.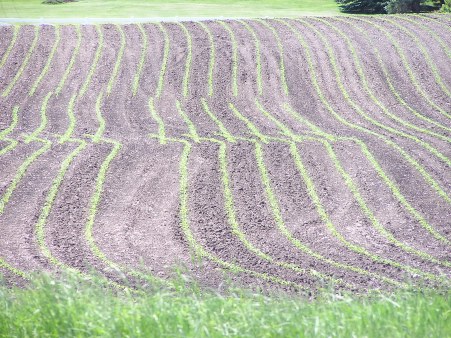 Rows of new corn coming up in eastern Iowa. The 1996 journey was taken in fall, harvest time. Everywhere I've passed through this year, people say it's been a delayed spring for planting.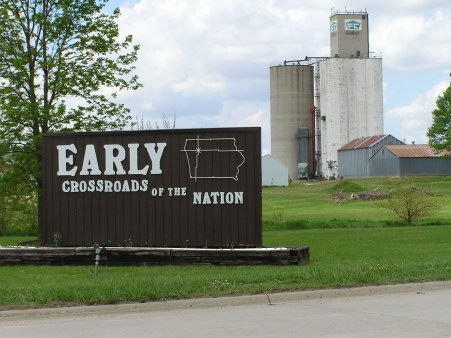 A town of 600 that was originally located 2 1/2 miles south of the present location. The residents resettled north when the RR came through. I'm not sure why they claim to be the Crossroads of the Nation. It didn't seem to offer much to claim that distinction and I didn't notice any information about that on the town website. I should have stopped and asked someone there.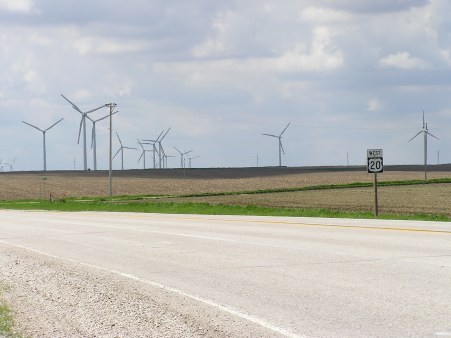 A scene becoming much more common across the country.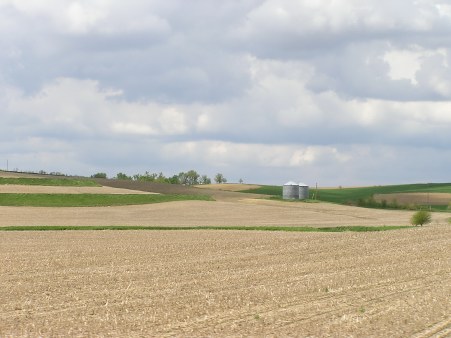 Typical spring landscape over the 300 miles from Dubuque to Sioux City.
fields before planting
corn stubble from last year's crop
meadowlark sings out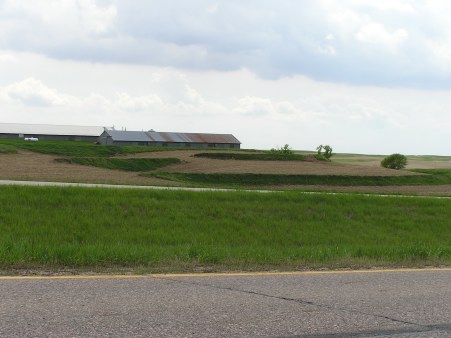 Western Iowa, a lot of terraced farm fields where the land becomes a little bit more rolling.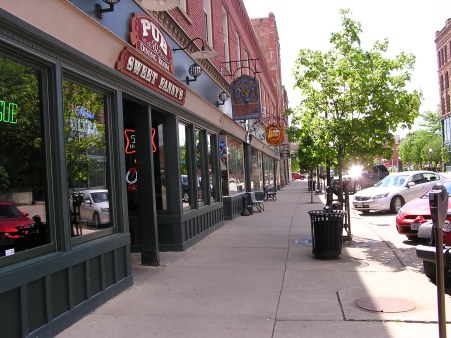 Sioux City. Historic 4th Street. I gave a reading in a store here in 1998. Store isn't there anymore. This block of the historic section (2 blocks long total) had four bars!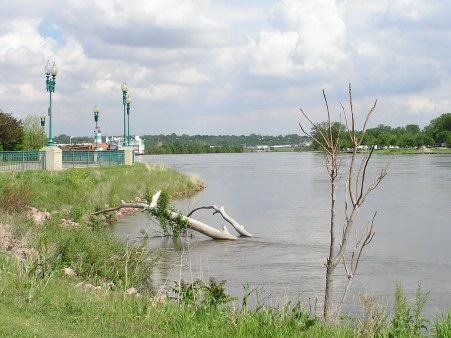 Missouri River from Sioux City, IA. It, as so many rivers, is also high for this time of the year.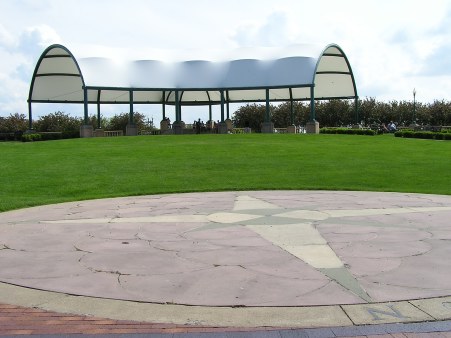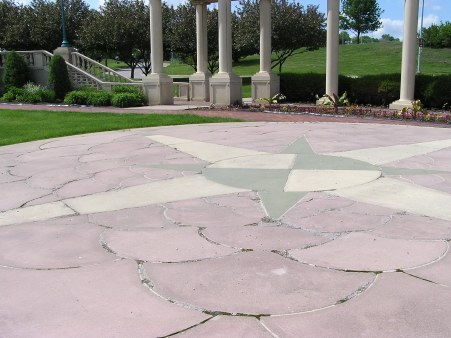 Anderson Dance Pavillion in Chris Larson City Park that fronts the Missouri. Young people seemed to be taking lessons there.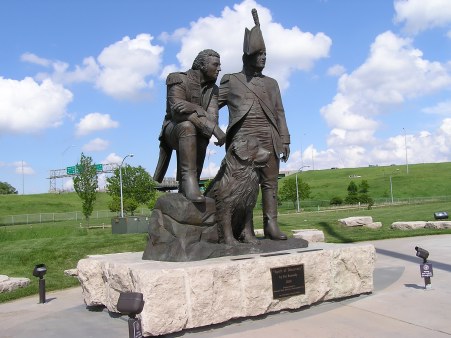 Lewis and Clark along with "Seaman", Lewis's Newfoundland dog.
This at the Lewis and Clark Interpretive Center, which, unfortunately, was closed on Mondays. This center wasn't here in 1996.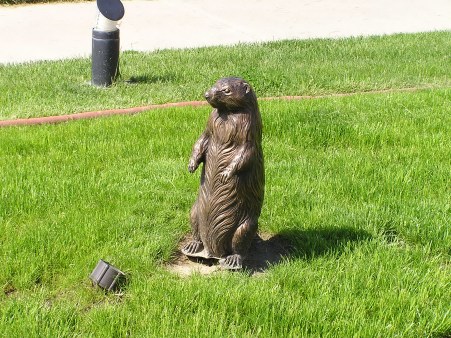 Prairie Dog. Not sure if I'll see one on the journey other than this statue at the Interpretive Center.
standing next to hole
Prairie Dog lets out sharp bark
falls over backwards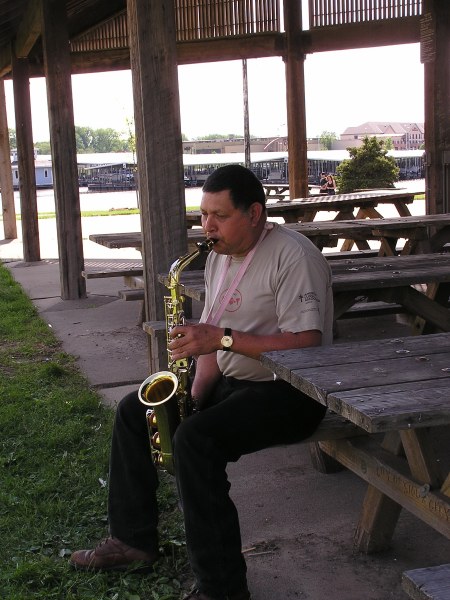 As I walked by the Interpretive Center I heard someone playing a saxophone. Pedro comes here every other day after work to practice playing. He was playing Spanish songs. One I asked about was called "Olive Rose."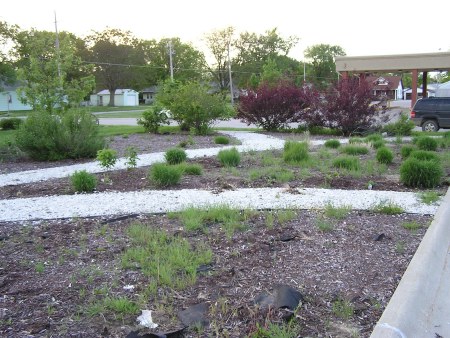 At the South Sioux City Public Library, Dave Mixdorf, the director, is cultivating a native prarie grass and wildflower garden.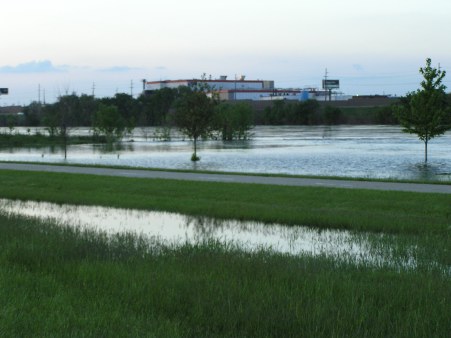 Missouri River from South Sioux City, Nebraska showing the height of the water.
A good program at the library and tomorrow heading to Ainsworth, Nebraska and another program. The following day I enetr into the Sand Hills, enter into the west.