FootHills Publishing
|
home


Mike James
Alternate
Endings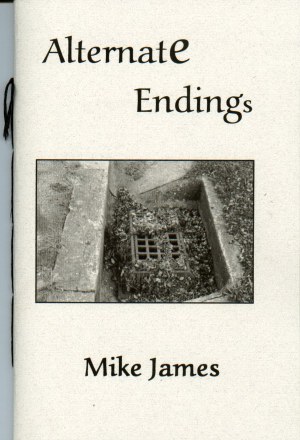 Mike James is the author of four previous collections of poetry: Not Here (Green Bean Press, 2000), All Those Goodbyes (Talent House Press, 2001), Pennies From An Empty Jar (Another Thing Press, 2002) and Nothing But Love (Pathwise Press, 2004). His poetry has been widely published throughout the United States in such magazines as Main Street Rag, 5 AM, Poem, and Paper Street. Although a native of the rural south, Mike now lives in Pittsburgh, Pennsylvania with his growing family.
From the Book:
Obituary
say nice things about me jack said
tell everyone that i loved
black olives
sinclair lewis and the early work of
philip guston
my secrets were numerous and
avowedly profane
only once in my life did i quote
rick flair
(the greatest wrestler of all time)
the quote is in greek
and untranslatable
tell people i always said
what i thought
i never danced around a subject
like a bird around a tree
that's not true, but it is how
i would like to be remembered
surely, you can see that
The Budget
my wife calls us
"involuntary vegetarians"
what she means is
these days
it is not steak
and lobster
but rice and salads
it is coffee
on the back porch
for dessert
it is playing cards
in the evening
and watching the stars
at night
to see how they
change in number
it is how things
lately are
in this vegetable world
that changes
with phone calls
and bill collectors
and sighs
Alternate Endings is a 36 Page hand-stitched chapbook.
$7.00
To Order Alternate Endings ON-LINE