Dave's Cross Country Bike Tour 2004
|
home




Part 4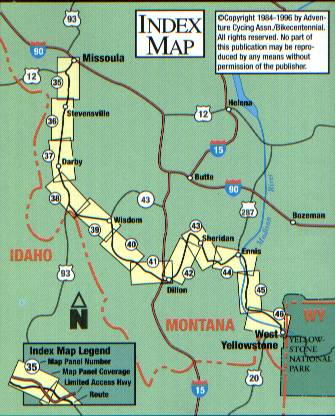 Missoula to West Yellowstone, MT
7/8 Thurs. 7:00 PM MDT - Phone Conversation with Winnie.
Hi! Iím calling from Stevensville, south of Missoula,
about 40-50 miles. The weather is great. Yesterday I saw a
moose- a big bull- 2 miles after Lolo Pass on the right hand
side. I didnít stop to take a picture, since Iíve heard
they can charge. I didnít want to chance it. At Lolo Hot
Springs I got to take a shower; that felt nice. Then it
must have dropped down to 32 degrees over night, because
there was ice all over the top of my tent when I got up in
the morning. I guess at 4000 ft., it never gets totally
warm.
I was so looking forward to Missoula. But then it was a
little disappointing and hard in a way. The Adventure
Cycling Office was nice, but hard to get to. I was a little
overwhelmed by seeing so many people, buildings and the
traffic. Iím not used to it after being alone on isolated
roads for so many days. Then I got lost; there were no
street signs. Anyway, Iím glad to be out here on a country
road again. Iím going on to Hamilton 22 miles from here
to camp.
Tomorrowís a big day. Iíll need to get up at the crack
of dawn because I need to make up time. Iíll go through
Darby, Sula, and maybe Wisdom (over a pass). Iíll have to
go over Chief Joseph Pass which is 7,241 feet- my highest
pass yet. Itís named for one of the famous Nez Perce
chiefs.
Iím learning some of the local history. Itís the
bicentennial year of Lewis and Clark coming through this
area. The Nez Perce helped Lewis and Clark when their party
was starving, but later on, this led to the Indiansí
demise. The terrain is unbelievable. I canít imagine
what it must have been like for the Nez Perce tribes to have
been chased by the US soldiers for years through this land.
Well, gotta go so I can make my next destination before
dark.
7/10 Sat. 8:00 PM MDT - Phone Conversation with
Gwendolyn-Jane (Winnieís mom).
Yesterday, July 9th, I made Chief Joseph Pass. I made two
small passes today. Tomorrow itís the ďNo Name PassĒ.
Itís the last pass before Yellowstone. I hope to make it
to just outside Yellowstone by tomorrow night.
I have lost a lot of time in the mountains- so many storms.
Big ones with incredible lightening. Really scary. People
have died in these storms because they werenít in a
protected place. Iíve been lucky though. In the last two
storms, I found one place that had a small depression in the
earth, and in the other I found a Department of
Transportation shack. My years in backpacking have taught
me not to take chances with the weather, or take foolish
risks. Itís better to stop, find shelter, and wait it
out. My legs are fine. My body is fine. My only complaint
is that Iím behind schedule. I may have to interrupt the
trip by catching a bus someplace to catch up. But I wonít
make that decision yet. I promised Winnie Iíd give it a
little more time. I just donít want to miss my family
reunion.
**************************

7/12 Mon. 8:00 PM MDT - Phone Conversation with Winnie
Iím two miles west of West Yellowstone; and will try to
find an Internet today. Iím heading for Hebgen Lake on
Rte 287. Thereís only 20 miles more until I say goodbye
to Montana. Then Iíll be into Section 5 (of the maps).
Iím still considering my options about being behind
schedule. According to the timetable I set for myself, I
should be in Rawlins (now 3 days away on the
Wyoming-Colorado border), but itís hard to make up that
time. I might have to take a bus or train or hitch a ride.
Iím considering which places to miss. (Note from Winnie:
Heís started calling this possibility a ďportageĒ-
which is the term canoers use when they have to take the
canoe out of the water and walk over a section of land to
another river, pond, whatever.) Itís kind of depressing
to think about it, like Iím not being true to the
cross-country trip somehow. But itís too beautiful to let
those thoughts inÖ I think, ďOh, I may not make the
whole trip on the bike.Ē Then I say to myself, ďKnock
it off, Dave, itís just too pretty all around you to be
like that.Ē Everyone I meet says, ďYouíre moviní
fast! When did you start? June 26th? Youíre kidding me!
And youíre here already! Wow! Youíre flying!Ē So
according to everyone else Iím doing great.
The most important part is I know in my heart that Iím
physically capable of doing what I set out to do. I mean,
what can you do about the lightning storms? Thatís
whatís got me two days behind. I talked to this BLM
(Bureau of Land Management) woman as we watched another
storm brewing in the distance. She said, ďAre you going to
do that pass now? Youíll be up there on the pass when
that storm hits.Ē Every day Iíve done at least one pass
with a 7% grade (that means Iím in my lowest gear for 4-5
uphill miles). Iím getting pretty good at this. So, I
told her I use the 5-second rule. I watch for the lightening
to strike, and then start counting until it thunders. If
itís under 5 seconds, I donít go up the pass. ďI like
that, thatís a good rule,Ē she said.
Today is the first day of cloudless skies. What a relief!
Itís so dry Iíve been drinking a ton of water. I did 85
miles yesterday. Mountain miles, I call them, including a
Category One Pass. It was a great descent into the
beautiful Madison Valley. I sure hope the pictures turn
out!
About 10 miles after the Dillon KOA, I came up on some
wetlands. I saw white pelicans there. Theyíre so big with
black on their undersides. They fly with their wings
straight out and soar like eagles. Three or four took off
from the marsh and flew right over me and caught a thermal.
They are really good soarers.
Yesterday was a big day for old mining towns. I stopped in
Virginia City where theyíve kept many of the old buildings
and preserved it well. It has a gold mining exhibit and
stage show. Itís a very cute tourist trap, but not over
done. I stopped at a bakery and got apple pie and, of
course, had to have a scoop of vanilla ice cream with it.
Iíve really been trying to stay aware of my calcium intake
and so add milkshakes and ice cream whenever I can. I
remember reading that the Tour de France riders suffer bone
loss from weeks of punishing riding, so Iím trying to
watch out for that. (Note from Winnie: Oh, right Dave, when
have you ever needed an excuse to eat ice cream!)
I was riding mostly through Alder Valley all day. A lot of
it was impressive, but it was ugly in one way. In the
1890ís they dredged up the whole valley looking for gold.
There are huge piles of gravel everywhere. They found gold-
tons of it- but the landscape suffered.
I had the coolest place to camp last night, in a place
called Cameron (believe it or not, named just like the town
near us in NY). Cameron, Montana. Itís just about the
only place between Virginia City and West Yellowstone. It
is amazing how far apart towns are here and so desolate in
between.
I was riding out on a long stretch with mountain ranges in
the distance on either side. All of a sudden I came up on
some rows of buildings. You almost could have passed it if
youíd blinked. It was one of these Mom and Pop camp
places. I walked into a bar filled with motor bikers. It
felt weird, me in my spandex. The place had 5 RVís
camping and I was the only tent camper. There was a really
nice, gray kitty cat. It looked like they had cut mats out
of his long hair. He was such a nice cat.
Today I had lunch at the Grizzly Bar and Grill. I was the
only one there, and they had OLN on the TV (The Outdoor Life
Network broadcasts the whole Tour de France everyday). So I
got to see part of the Tour de France, interviews with Lance
and George Hincapie, and part of the stage! The waitress was
a nice person, too.
I saw lots of packs of antelope today, and 3 Osprey or maybe
they were Ferrigenous hawks. Iím not sure. I need my
hawk book. And I saw lots of sandhill cranes. Oh, I also
saw a jack rabbit. It was the first live one Iíve ever
seen. Iíve seen lots of dead ones out in Wyoming along
the road. Theyíre big, and they have big ears. (Note from
Winnie: As we were chatting on the phone, Dave kept getting
distracted by an osprey on the lake near where he was
calling from. He kept digressing from his stories to keep up
a running commentary on what it was doing. Then another
joined the first, and he thought that was so cool, the
conversation never really got back on track.)
Iím psyched because Yellowstone is 14 miles after West
Yellowstone. Today has been all uphill- from 5,000 to 7,000
ft- one-half of it into a headwind. It was brutal.
Thereís a lot to look forward to. In Yellowstone, there
will be biker-hiker campsites. (But weíre prohibited from
some areas because of bear activity). These biker-hiker
sites are the catís meow because youíre likely to have
other bikers and hikers to talk to, we share food (ďHey,
what you got over there?Ē ďLooks good.Ē ďWanna try
some of this?Ē), and stories about where to stop coming
up. I tell 2-3 west-bounders a day what the best places to
camp or eat are that Iíve found.
I met this one cool guy today, he reminded me of Hank at
work, the same age, same way of talking. He was riding a
recumbent bike like me. We stopped and talked. I donít
always talk to the west-bounders I see because theyíre
motoring like me, trying to make their dayís goal. But
when I see someone else on a recumbent, we stop and talk.
Itís neat. If Hank could have been a recumbent rider,
this guy would have been him. Iíve seen lots of riders in
their 50-60ís, theyíre so fit. I met these guys- one
from the Netherlands and one from NY. They have pins they
wear from all the countries they have cycled in. By looking
at their collection, it seemed theyíd been to just every
country in the world.
My favorite meal so far, hands down, was in Mitchell. It is
almost impossible to beat. It was so surreal and quaint and
the food unbelievably good. The best part of this
experience, is how much this effort and experience sharpens
your senses, and sense of appreciation. It is really cool
to see and smell things. Itís a feast for the senses.
Every once in a while, like every couple of days, some guy
pops out of his RV next to my tent, looking at me and all my
gear on the bike, cooking my dinner over a camp stove, and
says: ďThat looks like a lot of work, heh, heh.Ē I
usually say, ďYeah,Ē and leave it at that. But last
night I finally had to retort, ďBut I get to eat whatever
I want and not gain weight.Ē
I also like that I can sneak up on things in their natural
state, whatever they happen to be doing and see them just as
they are.
Iíll call from the other side of Yellowstone. Parting
words from Winnie: ďHoney, remember, donít get gored by
a buffalo.Ē