Dave's Cross Country Bike Tour 2004
|
home




Part 2


Eugene to Baker City, OR
(Page will be updated as info is received from Dave.)
From Winnie:
Dave and I finally got to actually speak to one another! He called early Wednesday (6/30) morning from Prineville OR. Here's what he said:
I had my worst day so far. It really feels like an expedition, not "just" a tour. I really need to pay attention, be careful. I've been careful on the roads since I don't know the territory. But it's more than that- like knowing when to stop. When you're in a group, you've got the group to bounce ideas off of when adversity strikes. This is what's challenging me because I'm all alone. Although I think I've been making good choices.
Here's an example. Yesterday started off great. I'd already done a pass. That was the day before when I went up McKenzie Pass. There was a small window of opportunity open to cyclists and closed to cars- I got to go right through the National Forest with no traffic. The snow had just melted and road crews were working to clear these 40 miles of scenic byway. In truth there were just a few pinecones on the road, but no real obstacles. Usually McKenzie Pass is congested with RVs and my bike maps have a warning saying you sometimes have to pull off the road to let them pass because it's so dangerous with the narrow roads. But all the RVs had to go on Santiam Pass. So about 20 cyclists came out to ride. It's a tough climb, a hard grade- 1000 ft to 5000 ft in about 15 miles with switch-backs. There was an observatory at the top. All these pro-cyclists with $3-4,000 road bikes. They were really nice. Some people say roadies are stuck up, but they accepted me maybe because I've ridden a road bike for so many years. We had a great time hanging out together and giggling about how nice it was to have the road to ourselves.
After the pass, I left the lush rainforest moss handing from the trees and moved into the high desert country. They get about 10 inches of rain all year, and they got 3-4 inches yesterday. I saw the storm up ahead- thundering and lightening, it seemed stationary for a long time and then doubled back and headed toward me. I just can't read these mountain storms! I had to decide whether to ride through it or wait it out. With that flag on the back of the bike like a lightening rod, I decided to pitch my tent in the sage brush. It was really sandy, I got dirty and wet. There were scattered trees- small ponderosa pines- under which I shielded my bike and placed the tent away from the trees but well off the hilltop. I crawled in and waited it out. The storm held me up two hours. God, it was loud!
After the storm, I rode again. The sage smells so good after the rain when it's wet. But I couldn't make it to my destination at the campground on the other side of Prineville. Prineville was flooded. It was cloudy and that robbed me of a half hour of daylight. And because I studied my map, I realized that the next grocery store was 100 miles away and I was almost out of food. I have been noticing that I get stupid when I'm hungry (cyclists call this "hitting the wall"). I thought "no way am I going into a 100 mile stretch without food". I just get ravenous, pulling 35-40 pounds up and down these mountains, you get so freakin' hungry!
So I stayed in a motel in Prineville (pop. 5,000) and am taking a rest day today (Wed). I won't have another town for several days- that will be Baker City. I'm only 7 miles behind my target and I will ride out to the campground later today, after I buy yogurt, granola, oatmeal, Lipton dinners and fill my gas bottle. They have biker/hiker campsites for just $4, separate from the RVs.
I chose the right bike. It has complete stability and comfort. I've come 260 miles so far. [note from Winnie: uh, Dave, that means you have 3,740 miles to go]. Distributing the weight properly is key. I have an international stove (accepts any type of burnable fuel). It costs me 20 cents to fill up the bottle with 87 Regular Unleaded. It's dirty gas compared to white camp gas, but buying a gallon of that at a time is not practical. So I just clean the stove, it's easy. The roads have good shoulders for riding. My Kevlar tires have been really worthwhile because of all the glass on the roads in places. I haven't had any mechanical problems.
I stopped in the library in Sisters and saw the messages people have been leaving on the website. That was so great and really gave me a boost. I've been lonely only once or twice- otherwise happy for the space, great people, sights and wildlife.
I saw lots of osprey along the McKenzie River, they say it's a major salmon run. It was crystal clear water, just amazing and I got to ride along it for about 30 miles on a sunny day.
I planned to eat late breakfasts out. But there aren't a lot of services between towns. So my meals, and which ones I prepare, vary from day to day. I unexpectedly ran into a family-run Mexican restaurant. I hadn't planned to stop in that town, but had to. It was a real mom and pop place! I had delicious tamales and mole (Winnie note: a classic Mexican chocolate/chili sauce that Dave seeks out like a moth to flame).
In Sisters, at the base of the mountain after McKenzie Pass, I met a park ranger when I stopped in their station to refill my water bottles. Nice staff. She warned me about the thunder storms. She held my gaze with a steady stare and told me they had 2 workers struck by lightening. I think I know a little about being in the mountains after 30+ years of camping in the wilderness. But I try and be gracious. Everyone is giving me advice. They all think they know what it's about, what it takes to ride cross country. I just listen.
What's next
There are afternoon thunderstorms predicted with hail until Friday. Then a front is supposed to come through and it will be cooler in the NW. That's good news. I'll be crossing into Idaho and Hell's Canyon where they say it hits 110 F on the floor of the canyon.
I have to get up a ride earlier and beat the heat, the afternoon storms and the traffic. There are national monuments and parks coming up. I'll be timing my rides to be over the passes before noon (that's a mountain climber rule of thumb). McKenzie was the hardest. I will have small mountains in the high desert to conquer now. I feel really good physically.
Well, check out's in 50 minutes and I have to pack up, shop and get to the campground. I'll call again in a few days when I get to Baker City.
Yesterday was an ass-kicker. Three tough mountain passes- Dixie, Tipton, and Sumpter (an old gold mining town) all over 5,000 ft. The passes wore me out. I've had 80 % tail winds so far on the trip. After each pass, I'd drop back into the river valleys- it was so pretty with the big Ponderosa pines.
In Mitchell (pop. 200, looks more like 15), a couple from near Boise, ID took me out to lunch. Mitchell looks like a ghost town- high desert, barren landscape. Throughout Eastern Oregon the internet access has been really poor or nonexistent. But the town has a diner, a general store and a bed & breakfast. The Andersons saw me and said, "Hey, you're riding cross country, we want to hear about it." The Mitchell diner is one of those old-style ones with a wrap-around bar and about 10 stools. The owner/cook/jack-of-all-trades is this big guy who looks like a lumber jack- the stuff of legends. After he got us our meals he brought out a guitar from the back room and played Jim Croce songs and we sang along. A small family came in (I don't know where they came from, this place is in the middle of nowhere). I had a deluxe bacon cheeseburger with a mountain of fries and a large, cold coke. (Note from Winnie: sounds as if Dave is taking his mom's advice. See Guestbook entry dated July 4th 2004 - 07:21:07 AM) Another one of those off the charts quaint moments that this trip has been full of.
There's been lot's of raptors; I've seen them all. There was this one male kestrel trying really hard to peel a just-dead chipmunk off the road. And last night I camped 8 miles west of Sumpter OR next to a 3 x ½ mile lake where osprey and bald eagles were fishing. I saw an osprey catch one and fly off with a fish in his claws. Meanwhile, I had a Lipton Thai dinner. I threw in a bag of peanuts leftover from the day's ride. It was really good!
A special thanks to Peter Stull: he told me to avoid knee pain by adjusting the length of the boom on the pedals (changes the distance the pedals set from the frame). I had some right knee pain the day before yesterday. I adjusted the pedals, and even through all the passes, I didn't have even a twinge of pain.
Oregon has been very good. The thunderstorms set me back but provided a sense of adventure... too much adventure actually. But overall, the scenery, people, weather, wildlife - it was all off the charts.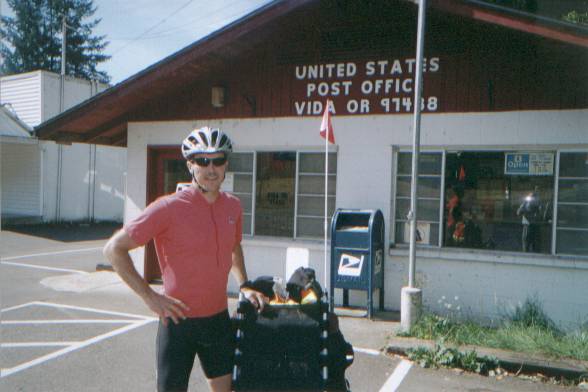 Vida, OR - He's Really out west!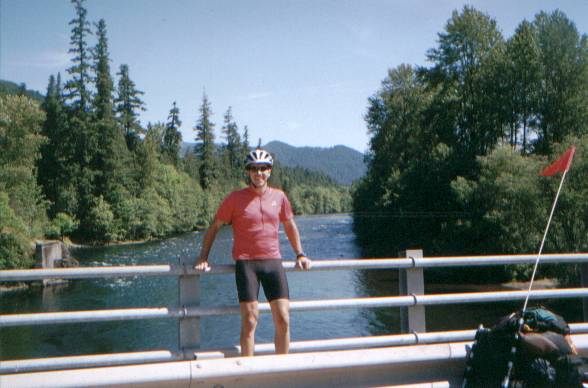 McKenzie River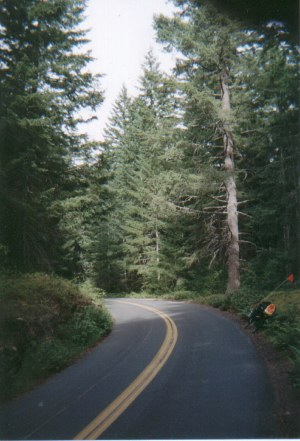 McKenzie Pass area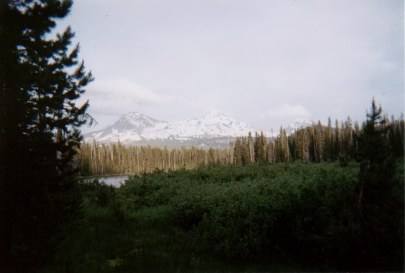 Sisters Mountains from McKenzie Pass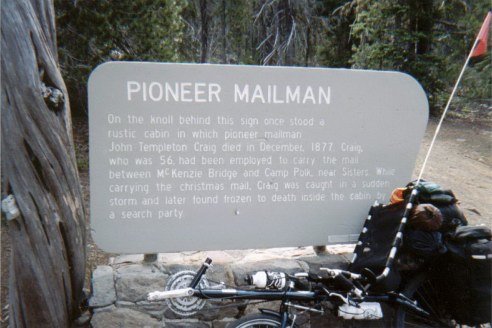 Historic Note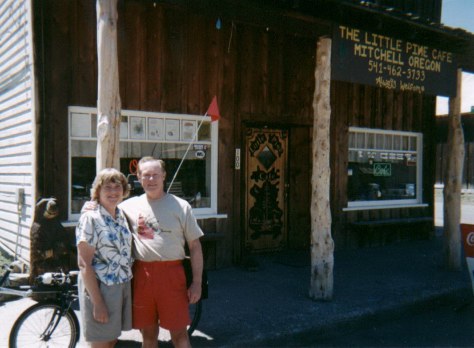 Couple from Boise, ID (See text above)