Dave's Cross Country Bike Tour 2004
|
home




Part 11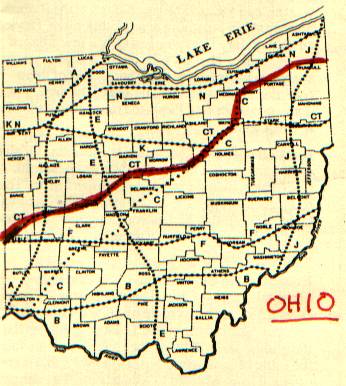 Richmond, IN to New Palestine, OH
Monday, 8/2/04, 4:00 PM Eastern Daylight Time
Conversation with Winnie
Iím in Latticeburg, Ohio about 50 miles from Pat and
Karinís (Note from Winnie: these are our dear friends who
live in Peninsula, near Akron. Dave has been backpacking
with Pat since 1982 and also with Karin since she and Pat
got married). I only have time for a short talk because I
have a ways to go before dark. Hey, I just noticed
thereís a little Amish buggy with a horse hitched right
next to me.
The biggest highlight today was when a coyote ran right in
front of me this morning. It was a beautiful, red-brown,
rufus colored. He didnít see me at first. I was watching
him and saw him lope half way across the road, before he saw
me. He was only 20 feet from me. He was about 40 pounds,
definitely an adult coyote. That was cool!
I did 115 miles yesterday over flat Ohio terrain. Iíve
had good weather for two days, hot, but no clouds. Last
night, I arrived in this lovely little town called Fulton. I
was looking for a place to stay because it was dusk, almost
dark. There was no city park. Iíve been sleeping in city
parks all week and so havenít paid for camping in a while.
I started asking people I saw if they would let me camp on
their land, and they all looked at me and everyone said,
ďnoĒ. There was this we-donít-like-cyclists kind of
feeling. Anyway, it was already getting dark and I
couldnít face more rejection. So I started pedaling east.
All the cycling books and bike touring maps say this will
happen sooner or later. So I did what I havenít had to do
yet. I got mostly out of town and saw the Fulton town water
tower. The base was all fenced off, but behind there it was
wooded. There were houses a few hundred yards to the right
and left of me. I looked around and didnít see anyone.
No one saw me slip out back to those woods.
I put up my tent under this tree that had a young barred owl
on a branch above me. It was a juvenile; I could tell by
its vocalizations. (Note from Winnie: Dave chuckled when he
said this and then imitated the owl. He apparently thinks
young raptors are very funny. He says they call out
constantly just to hear themselves and try out different
sounds. You have to ask Dave to imitate one for you. I
canít put it into words, but heís really good at
imitating barred owls). I felt good with him there,
Ďcause I figured heíd nab any rats.
Today Iíve seen lots of red tail hawks. Iíve been going
through some very pretty, scenic rural Ohio farmland.
Itís Johnny Appleseed country, apparently. Itís hilly
and woodsy, almost like the Ozarks- but not as intense.
There are scenic rivers, not as gravelly as in the Ozarks,
and one trophy bass stream where anglers were fishing.
Itís very beautiful.
The last stretch now to Akron I think will be flatter. I
should make it to Pat and Karinís by dark, or if traffic
is really bad maybe Iíll call for a lift. Tomorrow, I will
rest and hang out with them, then leave in the early
afternoon and ride 40-50 miles. They found me a wheel, so I
have to put that on, too. I think I have about 400 miles to
go Ďtil I get home.
Gotta go now. Bye.
Tuesday, 8/3/04, 10:10 AM Eastern Daylight Time
Conversation with Winnie
I didnít quite make it here. Pat came out about 10 or 15
miles to pick me up because it got dark. The scenery was so
beautiful! These Outdoor Pursuits maps are amazing. They
have fabulous routes to get around big cities and the roads
have been good ones. I have 360 miles to go. I have a lot
to do today before I leave here later this afternoon. Iím
still debating whether I need a rest day and should stay
here or if it would be better to spread out the next miles
over 5 days instead of 4. I think Iíll put in some miles
today and cross into PA if I can.
Tuesday, 8/3/04, 9:30 PM Eastern Daylight Time
Conversation with Winnie
(Note from Winnie: I phoned Pat and Karin to see how their
visit went and when Dave had left, and there he was, sitting
right next to Karin! Karin said he had napped a lot, worked
on his bike, and was getting some good rest. They were
having fun visiting with him. Then she passed the phone
overÖ)
You caught me cheating! I stayed the rest of the day here
after all and rested. I was not going to go anywhere this
afternoon. I was not doing well. I was tired, exhausted, I
felt clumsy. I forgot my tire back at the house when we
went to buy the wheel, and I knew then that I was in bad
shape. I did 115 miles both of the last 2 days. It really
took it out of me. The temperature was in the upper 80ís
to near 90s and very humid. I had to stop and refill my
water every hour. (Note from Winnie: I told him he was
really spacey and disorganized on the phone yesterday when
he called from Latticeburg. In hindsight, I wondered if he
might have messed up his electrolytes by drinking so much
plain water through that heat while riding so hard and
long.) Yeah, thatís what I thought by today, too, and I
bought an electrolyte recharge mix and drank that all day.
Now, I feel great. I not only have a new tire and wheel,
but a new drive chain. It took three regular bicycle chains
to make one recumbent chain. I had to work on my bike. And
I had some frozen custard when Karin and I went to pick up
bike parts. Iíve been just eating all day. The best part
has been heavy doses of vegetables, which Iíve hardly had
the whole trip except when I was with Winnie. My body has
really wanted it.
Iíve had a good run since leaving Missouri, cruising
through 3 states, one of them pretty darn big. It was time
for a day off. Iím just glad I could do it in a place I
felt really comfortable and relaxed. Itís been the perfect
time for this to prepare for the last leg. Iím really
looking forward to this next stretch. Itís a part of the
county I donít know yet and I expect it will be really
pretty.
(Notes from Winnie: Dave looked at the pictures on line as
we were talking, and went ďooh and ahhĒ and commented on
each one, uttering many thanks to Michael C. for the web
site, selection of pictures and captions, etc. He talked
again about how great it was seeing his family at the
reunion, the send off by the river, and riding across the
Mississippi ion the ferry. Then, he went onto the guest
book page and read the messages out loud, laughing a lot as
he went along, and we talked about all you people that keep
writing in! Itís made him so happy, so thanks for all who
have taken the time. He went back to looking at more
pictures, then read out some narrative sections to see what
I had written in and laughed more.
This will be the last entry until Dave gets home.