Dave's Cross Country Bike Tour 2004
|
home




Part 6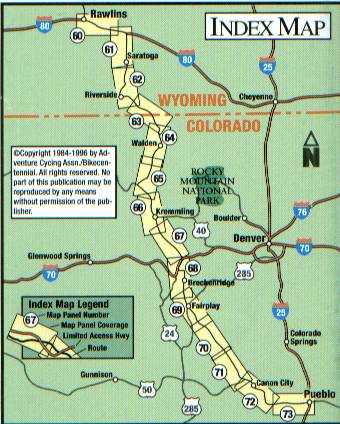 Rawlins, WY to Pueblo, CO
7/19 Monday 2:10 Mountain Daylight Time
Conversation with Winnie
Hi, I don't have much time to talk. I'm in Silverthorne,
Colorado. It's 15 miles to Brekenridge on a bike trail and
then 10 miles after that up Hoosier Pass. I have to make
the pass today if I'm going to stay on schedule to get to
Pueblo by tomorrow night in time to catch the bus across
Kansas. It'll be a tough pass- the highest I've done yet-
over 11,000 ft. I'll be in sympathy with the Tour de France
riders as they go up the Alps. (Note from Winnie: I had to
remind him that today the Tour riders have a rest day and
the Alps actually start Tuesday. It's a sure sign he's
really feeling like he's on vacation; he's losing all track
of time... or his mind...after all, he thinks 4,000 miles on
a bicycle IS a vacation.)
I made it to Riverside, WY Saturday night. The campground
was a cute little RV park along a river, run by very
bike-friendly people. There was a great band- darn good
music. I wish I could have stayed up to see them but I was
so beat from riding 95 miles into a headwind. I just went
to bed, but heard them when I got up later and they sounded
really good.
Yesterday I had a terrible headwind (again!) but I covered
100 miles anyway. Not exciting countryside- no trees, lots
of antelope. If not for the antelope, I don't know what I
would have done. I couldn't live out here in the high
plains- there's just nothing here. I can't stand this
landscape day after day with no trees.
I was getting close to my destination at dusk. The road
wasn't very good and it was too dark. I just didn't have a
good feeling about it. So I put my thumb out and hitched a
ride. Gosh, I haven't done that for years! The guy who
stopped was a woodworker and had cabinets standing in the
back of his truck. My bike fit perfectly between them,
standing up, without having to even take the packs off! He
took me the last 5 miles to Kremmling. It's another one of
these tiny towns, population about 300 (Note from Winnie:
the map says it's closer to 1,300).
Today I've seen lots of prairie dogs and prairie falcons-
one hunting the other. I saw lots of falcons diving for
lunch. I will be entering the forest again. I can't wait-
it's so cool to ride along tree-lined roads. By the way, I
had my third flat (getting good at changing the tire on the
back wheel!). I had to stop and ask a westbounder and for a
patch because I'd run out.
I'm looking forward to my rest days. Colorado and Wyoming
really wiped me out. (Note from Winnie: Duh, Dave, you're
doing ALL of Colorado- including the Rockies- in 3 days!)
A side note from Winnie: Dave sounds really calm- not at all
disappointed- about this portage in a bus through Kansas. I
know some people have been worried that he will feel cheated
somehow by not doing the whole trip on his bike. But I
don't think the point of this trip (for him anyway) was to
ride every inch from coast-to-coast. His goal- as I
understand it- was two-fold: (1) to see if he could push his
body to this limit of riding so far every day and (2) to see
lots of the US- it's vistas, people and wildlife- from the
seat of a bicycle. He's accomplishing that goal- and even
exceeding his expectations thanks to the recumbent- every
minute of every day of this trip. I think some people may
be more worked up about this portage than he is. But that's
their problem. As for Dave, he's doing just fine. Very
happy, centered, and his muscles don't ache a bit!
Conversation with Winnie
Hi! Iím in Hartville, Missouri. Iím pretty tired from
lack of sleep. But let me first tell you about Hoosier Pass
in Colorado.
Brekenridge and the Pass were my personal Alp díHuez* and
the culmination of many emotions. I had been pushing hard
the previous few days, and hadnít taken a rest day for two
weeks. The pass itself was hard and it rained again with
thunderstorms scattered throughout the mountains. It was a
cold rain with the temperature hovering in the 40ís.
There was plenty of friendly tourist traffic- cars with
bikes mounted on the back- and people were honking and
calling out their windows, encouraging me on the way up. I
felt strong and an intense emotional experience. I had been
wondering these last few days if I would make it, and having
it be so beautiful as I reached the top was a rush. It
stopped raining and there were spectacular views all around.
The pass was so beautiful and such a thrill, it carried
right over into the night and I could hardly sleep with the
elation of what Iíd accomplished. And with my camp still
being over 10,000 ft, my heart was still beating pretty
fast.
The next day in Canon City, I had a guy at a bike store look
at my front tire. He said I needed a new tire asap- he
didnít carry these 20-inch wheels, theyíre hard to find.
So he called around and found a place in Pueblo. He also
gave me a shortcut to get into the city faster. I pushed
really hard and still almost didnít make it. They guy at
Bobís Bicycle (Bobís son) kept the shop open an extra
hour waiting for me to get there. The front tire was
cracking and needed to be replaced. He then took me to the
bus station, which was a good thing since the place where
you box up the bike was going to close. I hurriedly broke
it down and packed it up and then had to wait around until 1
AM for the bus. Instead of getting a motel and taking a
shower, I just got some wet wipes and cleaned up a bit.
Expect a lull in updates between July 23 and 27 while I'm
with him in Missouri at the Schenck family reunion.