Dave's Cross Country Bike Tour 2004
|
home




Part 3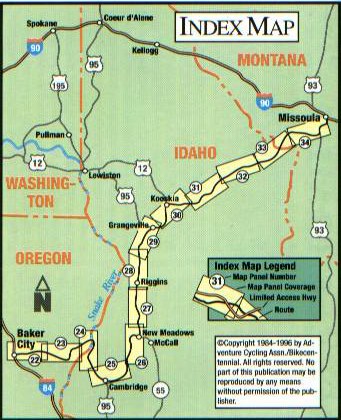 Baker City, OR to Missoula, MT
7/3 Sat. 12 noon PDT - Phone Conversation with Winnie.
Today, I'm so glad it sprinkled rain and now it's cloudy and cooler. It's easier on my legs without the hot sun pounding down. Pray for good weather and a positive 5-day forecast. We've had this warm weather system from the South, which brought some areas 1/3 to ½ their total ANNUAL rainfall in 2 hours! I finally bought a local paper just to read about the weather. You ask people on the street about the forecast and they look up at the sky and say, "well, there's some clouds up there, guess it might rain." I want to say, "What? Doesn't anybody around here watch the Weather Channel?!?"
Today I will try and reach Oxbow at the Brownlee Reservoir and Dam (Idaho). There's a Forest Service campground there. I love the Forest Service campgrounds, they're so clean, even if they don't have showers. One night I just waited til dark and cleaned up by the river.
It's mostly down hill with only one major climb. I'll go through Hell's Canyon, along the Salmon River in Idaho and up through the Nez Perce Reservation. I just realized that I miscalculated this stretch. I thought it was three days to Missoula. But it's 413 miles from Baker, OR so it will take me four days (arriving in Missoula Wed. 7/7).
By the way, I've seen 5 cross-country cyclists heading west and today will probably leap-frog with two guys heading east like me. It's easy to pick out the folks doing a long trip- they look weathered and lean like I'm getting, and their bikes are loaded.
There's more pictures on the way. The Post Office was closed on Sat., but someone was there to let people pick up packages. Even though she was locking up when I arrived, the lady there took my film to mail. She was really sweet.
(Once he leaves Oregon, Dave will cross the time zone line between Pacific and Mountain times three times before reaching Missoula MT!)
Conversation with Gwendolyn-Jane Romeril (Winnie's mom)
Yesterday I went through Eastern Oregon and Western Idaho. It was very desolate and baking hot in Central Idaho. It was my hardest day yet. You could say the honeymoon was
over. But I don't want to give the impression I'm not having a good time. Going through the desert was boring, all the same. But now it's interesting and fun again because it's green and lush.
I saw a bald eagle fishing on the Snake River (that runs through Hell's Canyon). I've seen lots of deer, osprey and red tailed hawks. The red tails are raising their families-
lots of them- in this area. I saw lots of milk snakes and one rattlesnake (ok, it was dead).
Last night I got really, really, really lucky. At the top of the mountain, was the National Forest Campground, but it was closed for renovations. Nobody seemed to be around, so
I snuck in. I had to climb over this fence and had a hard time getting my bike over it, but I finally did it and was glad for it. I was all alone, far away from any town. I
just wanted to have a quiet night away from the fireworks, celebrate the 4th at one with the wilderness, and it was just perfect.
The weather today's great, in the low 80's. I hope tonight to be camping between Riggins and Grangerville in the Nez Perce National Park. If I'm lucky, I'll make it to White
Bird. It's an 11-mile hill. The climbs are sensational, they've all been 7 to 8 or 10-mile long climbs in my lowest gear.
I haven't been near a computer, east Oregon was so desolate. About every 60 miles there's a small town with about 200 people. Each has a general store and a café. That's it. They're used to cyclists coming through so they treat you great. People have been so kind.
7/6 Tuesday 11:15 AM PDT (Pacific Daylight Time)
I'm calling from Grangeville, Idaho. I look kind of funny to people walking by, standing here in my bike clothes at a pay phone. The library isn't open here yet and I don't think I'll wait around. I really want to read all the messages people are leaving me on the web site, so I'll ride on to Kooskia and hope the library is open there.
I spent yesterday going through the Salmon River Canyon on State Route 95. It was beautiful, but all the holiday traffic took away from it. I'm sick of listening to RVs,
tractor-trailers and SUV's pulling 4-wheelers stacked two high plus their trailer. On top of that, it was mostly downhill and I had been sooooo looking forward to a nice long downhill. But I had a 25 mph headwind that negated the downhill effect. I was pissed and it slowed me down a lot.
Then there was a steep 11-mile climb at the end of the day up White Bird Hill (4,245 ft), and my goal was a campground at the top. I just couldn't make it. I pitched my tent on
someone's land off the road under some trees.
I ended up having a hard night and didn't get any sleep. Something kept trying to get into my pack. There shouldn't have been many small animals around at that elevation, so I
didn't hang my food. I'd seen a lot of deer and had been riding through big horn sheep country without seeing any. But they wouldn't have bothered my stuff. Mountain lions
are pretty common according to the locals and I thought that was a possibility. It was a still night and I could hear the coyotes off in the distance. Whatever it was kept
rootin' around in my bicycle shoes, scratching at my packs. I thought, "God damn it, if you put a hole in one of my panniers (bicycle packs), I'm gonna be pissed." So I
unzipped my tent, which should have scared it away, and used Winnie's flashlight she lent me to peer around. Two feet from the tent, he was sitting there looking at me. About
the size of a small rabbit, with the face of a deer mouse and a tail like a... RAT! Ugh! I hate rats. It wasn't even scared of me and I had to shoo it away. I get up and hung
my food high in a tree. Then I got back in my tent and tried to sleep, but I couldn't. The moon was out and I hadn't put on my rain fly, so I could see the silhouette of
the tree where my food was hanging. And there was the little booger climbing the tree, trying to get my food. It didn't look like any rat I've seen before but the tail was
unmistakable. So I'll have to look it up in a mammal book. Maybe it was a kangaroo rat.
In the morning, I ate late breakfast at a restaurant. I had 2 eggs, hash browns, 3 sausages, and then had to order more food- 2 huge pancakes- and it barely filled me up. I've discovered peanut butter and jelly burritos (which Winnie thinks sound gross). Flour burritos are easy to carry in packs since bread just gets squished.
The people are great. These small towns are used to cyclists. A lot of places let us sleep in the park. They get 1-2 cyclists a day coming through all summer. I just
ran into a supported group of cyclists who look like they're all under twentysomethings. They were the same group I saw in the camp on the coast. (Note from Winnie: A supported group means they have a chase van carrying all their stuff.) They act like Outward Bound, except they don't seem too excited about their trip.
I went to a store and asked if I could buy just one pack of matches, maybe they had an open box under the counter. The lady said, "No, but I have most of a pack in my purse out
back, let me get them for you." I'm accepting a lot of mercy on this trip.
The air is still today- a good thing after yesterday's headwind. It's cool, with high clouds blocking the sun. My goal is to get between the town of Lowell and the Lolo Pass
on Rt. 12. Tomorrow I'll do Lolo Pass. (Note from Winnie: this stretch is on the Wild and Scenic River Corridor of the Lewis and Clark Highway, all on National Forest land. If you
have an Idaho/Montana map, check it out- all the peaks on either side of the road are over 7,000 and 8,000 ft, with Lolo Pass at 5,233 ft.)
Tonight I'll be 100 miles from Missoula MT- only two days off schedule (one because of the thunderstorms and one because I miscalculated the mileage in Idaho). I expected
to go about 85 miles a day in the mountains. Over the last three days I went 93 miles (7/3), 76 miles (7/4) and 86 miles (7/5), and I'm not worn out from it. I'll make it up
in the plains states, or take one rest day every 10 days instead of each week. I should still make it to Ste. Genevieve, MO for the family reunion by Friday, 7/23.
7/7 Wednesday 5:30 PM PDT
Today was one of my best day so far. I've been cycling along the Lochsa River through National Forest. There have been osprey all over the place. It's been a steady uphill, but
with a 20 mph tailwind! Very nice!
I'm in the Lochsa Lodge- all log buildings, cabins, kitchens, diners. Mostly fishermen but all catch and release (except the osprey).
There's been lots of motorcyclists. They always wave at me. They think the recumbent is cool.
It's just 13 miles to Lolo Pass and I will drop down the other side and camp at the Lolo Hot Springs. There are different pools at different temperatures and showers. Then
head into Missoula tomorrow morning, and finally leave one time zone behind. I'll be in Montana, enjoying those "Wild Montana Skies" (note from Winnie: he actually broke into
song of a John Denver rendition at this point...)