Dave's Cross Country Bike Tour 2004
|
home




Intro

In 1976, I spent part of my summer vacation at our family's home in Ste. Genevieve, Mo. During that summer, hundreds of bicyclists crossed the United States to celebrate the country's 200th birthday, aptly naming the trip the Bikecentennial. I met many of the riders: individuals, couples, couples towing children, groups, etc., as the route crossed right in front of our house on Route 32. We shared food with the riders from our family garden as I listened to the many stories of adventure and excitement that these cyclists told of their trip across the country. Soon after, my brother Jim and I embarked on a 15 mile ride to a local state park. The experience was thrilling and exhausting, ending with a call home for mom to come get us because we could barely walk!!!
Twenty eight years later I am on the verge of fulfilling a dream born that summer, of crossing the country on a bike, to experience the land, people and creatures in a way few people get to do. My passion for cycling has only grown over the years. I have logged thousands of miles in commuting to work, racing and training. My hope is that you will join me vicariously on my journey, that you will pray for me, send me good thoughts, etc; that it will inspire you to be active, and fulfill your own dreams, whatever they may be.
My tentative schedule is listed below. Many thanks to my wife Winnie for her love and support, and to Michael Czarnecki, the webmaster! Please visit the site regularly from now to mid August for trip updates and photos!!
Florence, Oregon 6/26
Missoula, Montana 7/05
West Yellowstone 7/08
Rawlins, Wyoming 7/12
Pueblo, Colorado 7/15
Alexander, Kansas 7/17
Centerville, Missouri 7/23
(Family Reunion)
Bloomington, Indiana 7/29
Peninsula, Ohio 8/01
Prattsburgh, NY 8/07
(Home)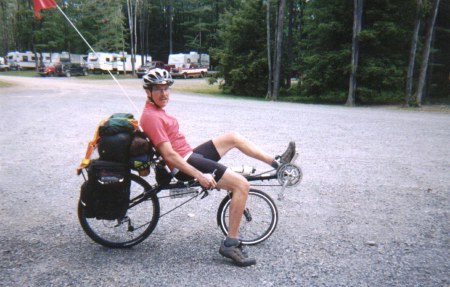 What kind of bicycle is this you ask? It's called a "recumbent" and this model is a Haulzak Horizon. I switched to it in May as I began aggravating my pinched nerve when I started putting in longer training rides. It's slightly heavier than a standard bicycle, but it is much more comfortable and aerodynamic. As a result, I hope to have little difficulty reaching my 4,000 mile goal from Oregon to New York in 6 weeks. The steering bar, brakes and shifters are under the seat. The part I like the best is the view. This bike allows your head to be upright and take in all the gorgeous scenery!!
Behind the seat I have stored all the essentials....tent, sleeping bag, pad, cooking gear, food, extra clothes, extra water, raingear, etc. I have mounted the flag for extra visibility to motorists. I plan to camp in forest service campgrounds, state parks, etc. wherever I can. The total weight of my gear is near 35 pounds, a far cry from the 60 pounds or more I'm used to carrying on backpacking trips. The advantage of bicycle camping is you don't have to carry all your food supplies at once!!