Notes and pics 8/12-14

8/12
Left home 3:20 AM, a day later than I intended. Just too much work to be done before leaving. I feel much better having taken the extra day to cut firewood, etc. before leaving for 14 weeks.
old familiar scene
how many times driving east
Susquehanna fog
That same old route, I-86, I-88 following Susquehanna upriver.
First sun, 6:18 over the hills and through the fog, near Richmondville.
The journey begins today, but really began 9 years ago. First thought of such a tour while living in Seal Harbor the winter of 2004-05. Sometimes it takes awhile for the dream to become reality.
Distant Adirondack mountains in view near the end of I-88.
Passing Springfield, thoughts of Terry. Hitchhiking days from 1971-72.
This tour will be full of new adventures and yet, also, a lot of reminiscing of other, older journeys, road experiences.
nearly perfection
scattered cumulus in blue
cruising into Maine
Drove onto MDI at 3:35 PM. 12 hours and 15 minutes with a 45 minute stop, one gas fill up and then another 25 minute or so stop. Pretty good time all in all. 688.1 miles from home to the island.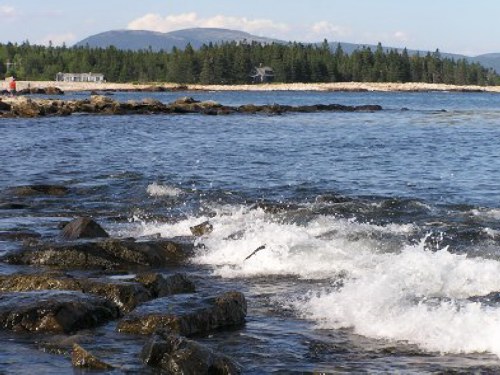 Went to Seawall campground to let them know I won't be using the site I had reserved for the next two nights. Will be staying with Elise instead. The woman ranger told me about a great article in the Mount Desert Islander about my reading tomorrow evening. "I saw the article and picture and said, I know that guy!"
Stopped in at the library briefly and Candy, the director, said there's a lot of interest in the reading. We'll see tomorrow.
So, on the island after a long drive. Heading to Elise's house shortly and then we'll have dinner together, either at her house or out. Already the journey giving me some of each side of my triangle base - creativity, people, nature.
Whenever arriving on the island there's a feeling of coming home. Forty two years of relating with this place. Yes, home, home.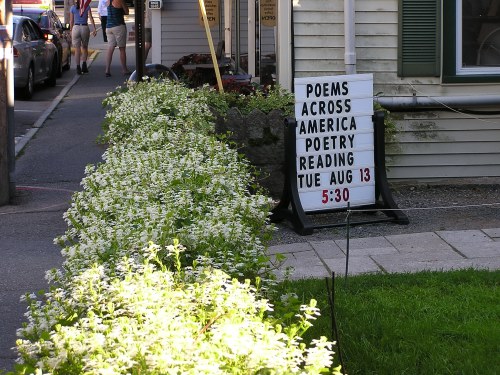 Sign outside of the Southwest Harbor Library.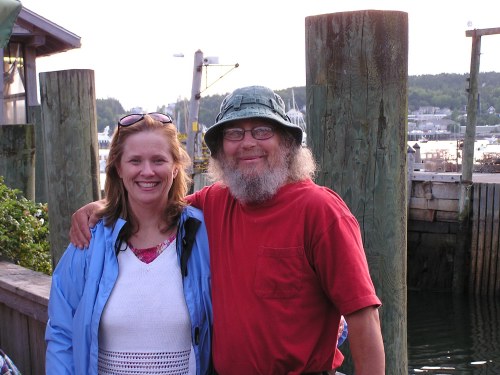 Elise and I at the Captain's Galley at Beal's Lobster Pier. Lobster, Corn, Seafood Chowder and good conversation with some people we just met there. A great first evening of the journey.
Southwest Harbor near dark, from Manset.
9:30 PM and exhausted. A long day, but a fulfilling one. I'll have one more day on the journey with this much driving, but otherwise most days will be easier in that regard. I'm here at my spiritual home. A little time by the water, a bit of time with an old friend. Now for a good sleep and more nature, people and creativity tomorrow.
8/13
Foggy morning, which I was hoping for. When here in June we experienced clear weather and then some rain, but no fog. Today was wonderful.
As I was taking pictures along Ocean Drive some bicyclists passed by and one called out, "Not much of a view." I replied, "No, it's a wonderful view." The ocean couldn't be seen because the fog was so thick. But what could be seen was that much more poignant.
So, a few pics from the morning outing.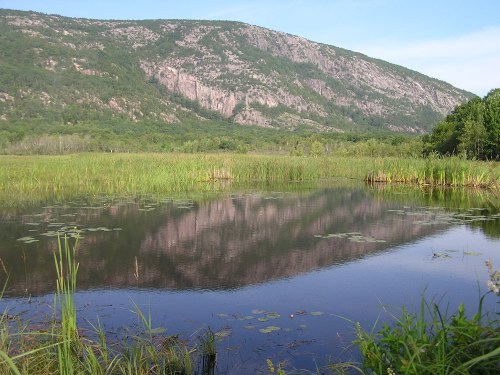 Champlain Mountain from Schooner Head Road. One of my favorite non-ocean scenes.
Shortly after I took this picture the fog started rolling in from the left.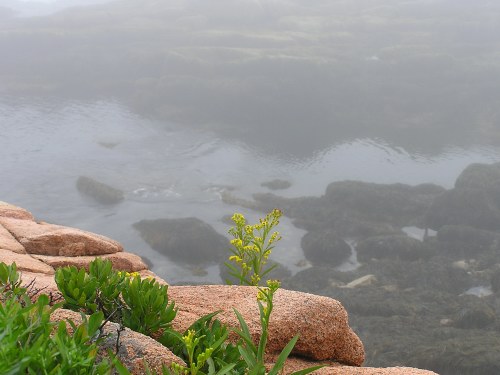 Goldenrod above oean.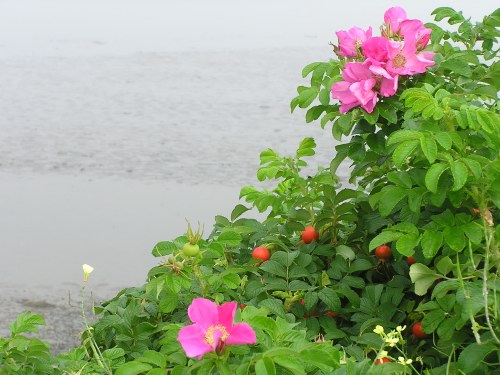 Rosa-rugosa flowers and hips.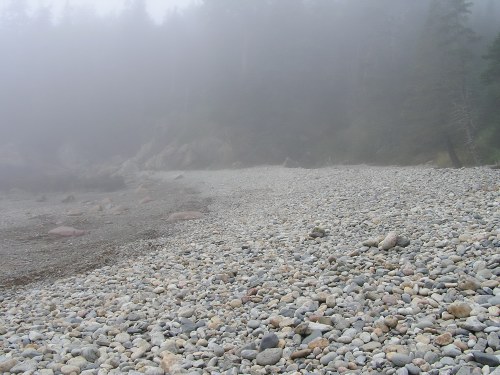 Little Hunter's Beach. One of the many cobble beaches at Acadia.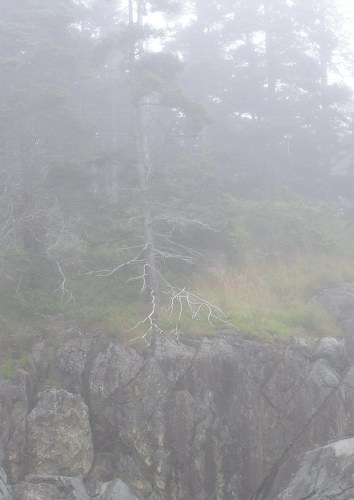 Tree and cliff in fog.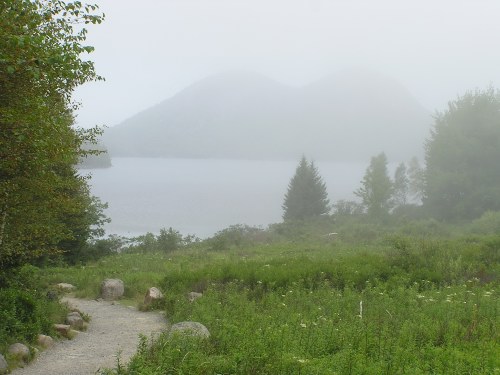 Jordan Pond and the Bubbles. A couple of minutes after taking the picture the Bubbles disappeared.
After the morning outing around the park I had lunch with another friend who goes back over 30 years, Diana. She works for The Friends of Acadia. An enjoyable lunch with non-stop conversation, both serious and full of laughter.
The first reading of the tour was wonderful. About 15 people who very much enjoyed the program. Good talk afterwards, a fair amount of book sales and some interesting connections. One couple was from Newark, DE where I have a reading scheduled! They offered me a place to stay for the evening when I'm there. During the reading I talked about bartering for rooms, which I've done ever since the first US 20 journey in 1996. So, as long as they don't have other company that evening, this may be another bartering adventure.
After the reading,
Jackson Gillman
, a well-known Maine storyteller, and I went out for a bite to eat and conversation. He's a highly-regarded storyteller and told me this was the best poetry reading he has experienced. We had a great time getting to know a bit about each other and there's some ideas floating around about possibly doing some work together. We'll see how that develops as time goes on, but I'd love to work with him. We seem to be compatible spirits.
So, now, late evening at Elise's house, I need to get turning in. Tomorrow I head down to Portland to visit with a friend I haven't seen since 1986! Along the way stopping at another friend's house for a quick visit.
Only the second day of the journey but I already feel as though so much has happened.
8/14
Can it get any better than this?
Left the island early, 6:30 AM. Again fog hovering over the landscape. This time I was driving along the coastal route, 1, heading south and west. My first stop was at Sewall's Orchards, near Belfast. Bob Sewall is an old friend who I met when conducting writing workshops in Belfast back in 1995. Unfortunately, he wasn't going to be home, he had to go out to one of the islands to work, but I was able to visit with his partner, Mia. Good morning conversation over green tea, peaches and whipped cream and a heavy downpour outside. Always a pleasure to visit there, which I don't do often enough. Left with two CDs of Mia's (she's recently started recording her songs) and a pleasant, peaceful feeling. The drive out from their house, down the lane that runs through the organic orchard, exiting through a sea of green, was exquisite.
Then I cruised Route 1 to Portland. I don't drive the coastal route very often, it's much slower than the alternative, but it was nice to do so this time. The fog lingered till about noon and then the sky cleared to blue with scattered towering cumulus.
What to say about seeing a friend for the first time in nearly three decades? I knew Lois back in the early 80s, when first living on Mount Desert Island. I worked for the park concessionaire and she was the Assistant Park Naturalist. We weren't close friends then, but whenever we did connect it was always enjoyable. Then the miles and time got between and we were out of touch, as often happens. A few years ago we reconnected through email and have been in touch virtually, but not in person until today. There's always a little wonderment with reconnecting with someone you knew long ago, but not recently. There was nothing to wonder about. From the first hello, through the walking the streets of Portland having intriguing adventures (no time to write them now,) through dinner and good talk with her partner, through constant conversation touching on a variety of topics, through the bat flying through the house, through turning in past midnight, the time flowed smoothly and oh, too fast. We have renewed the friendship and it is even more now than it was those many years ago. There will not be three decades between visits this time around!
So, day three of the journey is history. Tomorrow I move on (wanting to linger) to Bloomfield, CT for the second reading of the tour.
A few pics from 8/14: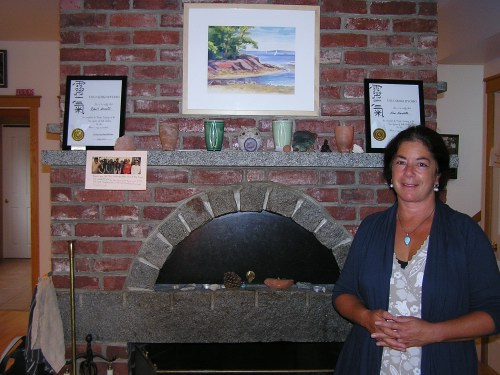 Mia and the fireplace Bob built.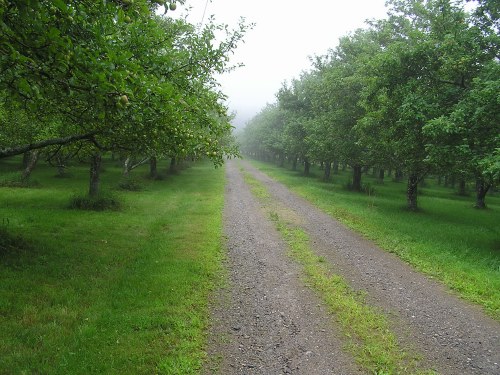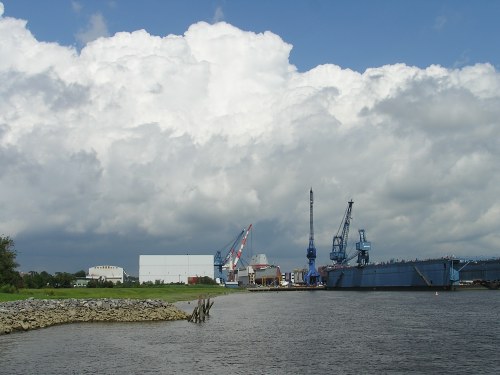 Bath Iron Works shipbuilding and cumulus clouds.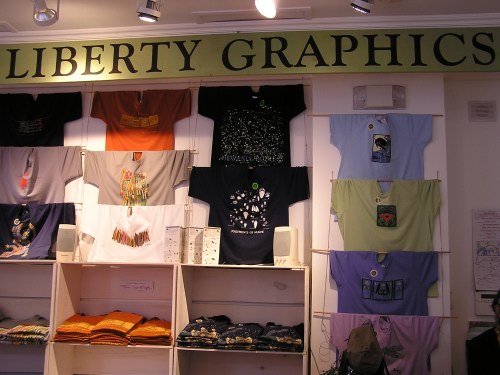 T-shirt designers that connect way back to 1981 and my days at Acadia Corporation, the Acadia
Park Concessionaire I worked for. Nice talk with Beverly (one of the original
Liberty Graphics
designers. I bartered books for a t-shirt with a woodland design and a John Muir quote.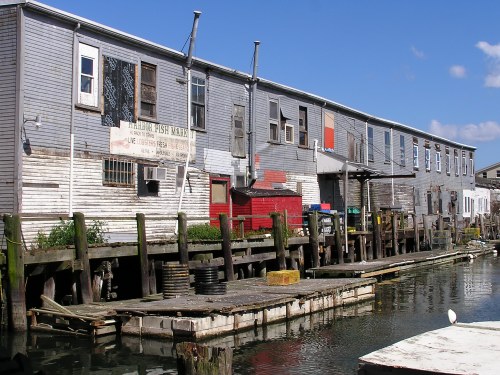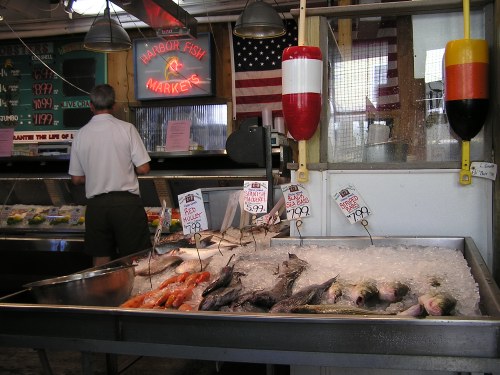 A couple of photos from the fish market.