Mark Gibbons

FORGOTTEN DREAMS
Mark Gibbons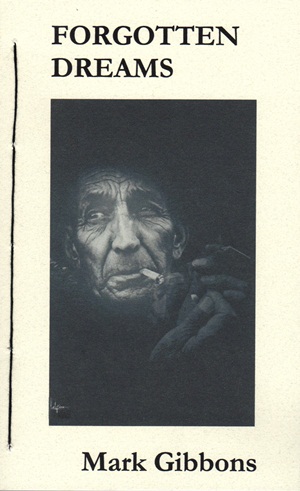 Including Seven Portraits by Lee Nye
from the Eddie's Club Collection.
Montana Poets Series 2, #3
Craig Czury, Editor

Mark Gibbons is one of my favorite poets. Every time I open one of his books, I can't put it down until I've read the entire thing. It's the kind of book I look forward to reading and rereading. Mark has a gift for telling it like it is. I feel like he speaks the kind of language I think in. He sounds like someone I know. His poems are wise, funny, and filled with a good heart.
-Jennifer Greene, author of What Lasts and What I Keep
Mark Gibbons is no stranger to poetry. As in his previous collections, he once again engages his reader in a lively exchange with experience as it comes to him, head on. Whether through memories of friends and family, or through love and its inevitable loss, these poems face their truth unflinchingly. Gibbons is a beat Montana poet, one of the best, whose poems dance in a rhythmic celebration of a life lived one step at a time.
-gary lundy, author of lavish is saying nothing like again,
and to each other water cool and pure.
Steeped with substance, Mark Gibbons' poetry navigates our ever morphing world and reasserts poetry into its proper populist tradition. As tireless as Cuchulain, he accomplishes this task one poem at a time, one line at a time, one word and one note at a time, brilliantly chronicling forgotten voices and the marvelous places they call home.
-James Jay is the author of two books of poems,
The Undercards and The Journeymen.
From the Preface:
Mark Gibbons parks his rig, steps out and unloads. He's what's called a steady hauler,
doesn't try to impress you...just is...bleeds and sings.
So where do I start? Shall I
Lie, pretend I have a handle on it all,
Or just blurt out what I don't understand?
What do you think? Would you
Be willing to take a chance on me,
Watch me slip into vulnerability?
How much time do you have?
We have a lifetime in Gibbons' poems, picking them up, carrying them to the right spot inside us before putting them down, letting them settle into their own arrangement for privacy or company.
Craig Czury, editor, Montana Poets Series
From the Foreword:
If the poem and the photograph had met on the road to Damascus, what they could reveal, together, is something I would describe as a vision.
A good poem shapes a picture in its words. A good photograph is a story made in the moment of exposure. Together they create their own new and unique form.
What Mark gives in these words is grit balanced in some way with humor, and you can see that great smile looking back from his skies, while at the same time he's holding you. On the other hand, Lee allows us to stand almost too close as we look in and out of the eyes of his portraits' faces.
What a thrill it is to read and see through the eyes of Mark Gibbons and Lee Nye together in this text. Thank you, gentlemen, for your friendship and your vision.
David J. Spear, photographer
February 2012
Two poems from the book:
CHRISTMAS, HELL
I can't even find time
to write the irrelevant,
irreverent form letter,
for Christ's sake,
let alone wax
poignantly about peace
& joy, chestnuts
or snow, those memories
in slo-mo of dark
mornings we danced
across freezing wood floors
to dig for socks & long johns
in dresser drawers,
bedroom windowpanes
glazed in ice--
we'd run to the living room,
shiver-up to the oil stove,
smell coffee, bacon
cooking in the kitchen,
listen to larch kindling crackle
& the trash burner roar,
Mother's slippers scuffling
the linoleum floor-dishes
clattered as we buttoned
& tugged, pulled on our clothes,
hypnotized by the glow
of icicles & colored bulbs
silhouetting the fir tree
we'd cut down
up Madison Gulch,
the literal presence of wonder
in our black & white eyes--
an evergreen rainbow
topped with a blue star--
it was our chromatic
invitation to dream.
--for Connie
OUTSIDE-INSIDE
Waking on the couch
in late-afternoon
winter light, the easy
buzz of Lortab
thick in my head,
& snow falling
through dark branches
above me, outside-inside
the clock ticks,
the house creaks,
the furnace clicks on.
My life passes quietly
as a dream
of cigar smoke & butter mints,
textured walls
& curved archways,
the plaster & lath edges
of my grandparents'
living room. Memory
swells & blurs
like curtains.
Each breath lulls,
sinks slowly--a stone
thrown into a tepid sea.
And sometimes just this--
the gauzy unfoldings
of a doughy human mind
aware that it exists
briefly in time--
is enough.
--for Janet Zupan
Lee Nye
1926 - 1999
Lee Nye was one of the seminal photographers of Montana. Born in 1926 in Hysham on the great plains of Eastern Montana, he was a child of the Great Depression and a dying West. He understood the cowboys, miners and loggers because he was one of them, yet he was also a catalyst for the art and writing scene in Missoula in the 60's and 70's. As a dual art and English major during the day and the iconoclastic bartender at Eddie's Club in the evening, he helped put Missoula on the map as one of the places to be. Nye and his photos are the "leitmotif" that connects the prose and poetry of the Montana writers.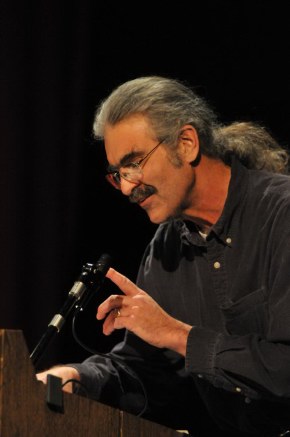 Mark Gibbons
In 1970, Mark was in a poetry workshop at his high school taught by an unknown Indian poet, James Welch. A student of Richard Hugo's, Welch gave Mark permission to write poetry in his own voice, out of his life experiences. He's been writing ever since. His poems have appeared in numerous journals and anthologies. His first chapbook of poems, Something Inside Us, was self published in 1995, and a second, Circling Home, won the Scattered Cairns Press chapbook competition in 1999. Connemara Moonshine, the first full length collection of his poetry, was published in 2002 by Camphorweed Press, followed by blue horizon in 2007 from Two Dogs Press. War, Madness, & Love, a collaborative collection of poems with Appalachian poet Michael Revere appeared in 2008, R & R Publishing. Mauvaises Herbes, a bilingual translation of his poems into French, was published in 2009 by PROPOS2 editions, France.
Mark lives in Missoula with his wife, Pam, and their two cats, where he teaches poetry for The Missoula Writing Collaborative.
FORGOTTEN DREAMS
is a 104 page hand-sewn paperbook with spine - $16.00.

TO ORDER:
From the US
From Canada
From Other Countries