Jack Spula

Jack Bradigan Spula
Nobody but ancestors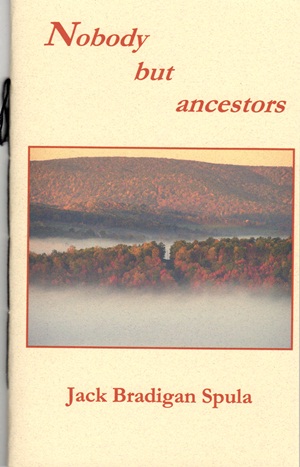 From the book:
Bridge out
A decently distant upland storm
Can build enough momentum
To make a detour permanent,
So you brake at a mound of black gravel,
Head-high, staked with improvisations
That will do the job, and no more.
So you just stand and look at the new
Arrangement, knowing you never
Wanted it this way. If you wanted anything,
It was fast water, not the clouded pool
You got --- But in the middle of your thoughts,
A family drives up behind the warning signs.
A man and woman and three noisy kids
Took two right turns and now need a moment.
In a flash, the kids are on a footpath upstream
Toward an old beaver hut,
But the wet clumps between
The wooden ribs make it clear
This is not the home it was.
So after skipping a few flat stones
And kicking some round rejects aside,
Everybody piles back into the car.
The kids are unhappy
With each other and the parents are glad
To be on the road, where
Looking ahead is a necessity,
But where it also
Pays to check the mirror.
A lifelong advocate for the Eastern Great Lakes and Northern Appalachian bioregions, Jack Bradigan Spula was trained as a pianist and musicologist, worked for decades as a community organizer and alternative journalist, and now wrestles daily with poetry's overwhelming truths - while trying to find language less grandiose than that, yet more precise. Born and raised in Niagara Falls, New York, Jack is a longtime Rochester resident and frequent pilgrim throughout the Adirondacks and the Southern Tier, Ontario and Quebec, Pennsylvania and New England.
Nobody but ancestors
is a 36 page hand-sewn chapbook - $10.00.

TO ORDER:
From the US
From Canada
From Other Countries