Rachael Z. Ikins

Rachael Z. Ikins
Renovations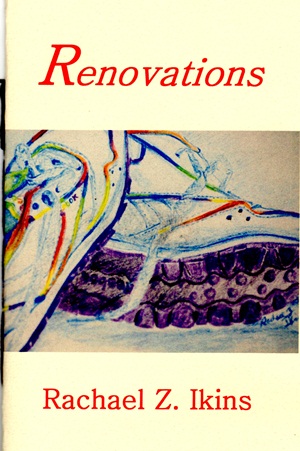 Rachael's's previous FootHills book:


From the book:
Prologue
Halfway/Passages

Cut my curls,
spike the remnants high.
Pull off my bra.
Let other hair grow.
Shove my hands into
baggy cargo pockets.
Cultivate a bad-ass saunter,
Delicious, dangerous dyke, curious
to open your cupboards wide. To wash your shoulders,
rinse fragrant water down your laddered spine.
To bushel your moon-pale breasts
with my elbows' amorous crook.
Midnight,
Candlelight.
When you recline
among your pink pillows,
one hand behind your head
like a Reubens nude.
Floor creaks.
You smile, no doubt.
Door hinges squeak.
I come out.
Sharon Springs, NY
2005
Rachael Z. Ikins grew up in NY `s Fingerlakes region. Her first poem published at age 14.
Rachael has won 10 poetry prizes among them first place National League of American Penwomen 2006 and 08. Her chapbooks include "Slide-show in the Woods" (Foothills) August 08, "Transplanted" (Finishing Line Press.) 2010 and in 2012 Renovation (FootHills.) She has featured and read at Pine Hollow Arboretum, Delmar, Smith's Tavern Poet Laureate Competitions, Vorheesville, NY, and at Caffe Lena, Saratoga Springs, NY. She is a member of the Penwomen CNY Chapter and a long distance member of Every Other Thursday Night Poetry Group, Vorheesville, NY.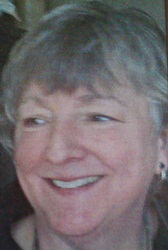 Renovations
is a 28 page hand-sewn chapbook - $10.00.

TO ORDER:
From the US
From Canada
From Other Countries
******************************************

Slide-Show in the Woods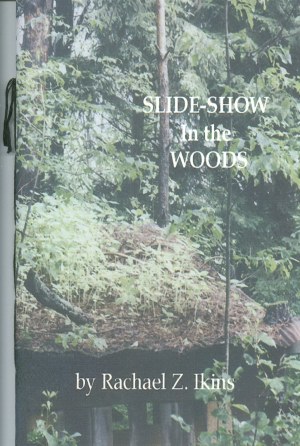 Rachael Ikins was born and raised in Central New York's Fingerlakes region. Her love of writing poetry began in eighth grade when an inspired English teacher taught poetry. She made it possible for Rachael to publish her first poem.
In recent years Rachael has received several fellowships to Colgate's writer's conferences in Hamilton, NY and to the Downtown Writers Center Retreat through the YMCA writing program in Syracuse.
From the book:
Book Club
Thursday nights, when
my father went to Rotary club
mom and I ate TV dinners.
Sometimes Mexican, sometimes frozen pizza.
My tin fried chicken balancing on my knees
on a dented old tray. My brother and I
in front of television, his small heels
pushing his rocker slightly backward
to gaze at the screen as he chewed
Mrs. Swanson's chicken pot pie.
I never liked mixed peas and carrots.
I loved books. I loved TV dinner night specials,
The illicit huddle of my mother's shoulders at the kitchen table
as she hunched over the body with Hercule Poirot,
her ash-tail cigarette lying limp
in a lumpy ash tray my brother made for her in art class.
Me with my best pal Nancy Drew or wandering with Gandalf.
Dad's rule at our house, "No reading at the table." Nor
elbows on the place mats, no open-mouthed chewing,
No conversation. Just Thursday's silent infidelities!
Slide-Show in the Woods
is a 32 page hand-stitched chapbook
$8.00
From the US or Canada
From Other Countries