Tom Jones

NEARING PALENQUE

Reflections on Native America

NEW AND SELECTED POEMS

Tom Jones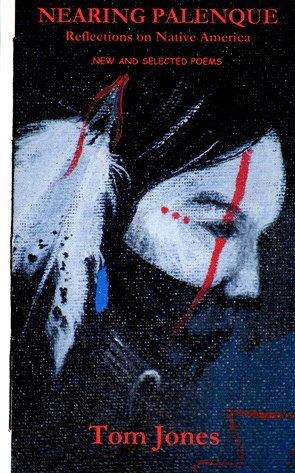 From the book:
NEARING PALENQUE
Whatever is not stone is light.
--Octavio Paz
All night the cry of the rain forest
fragrances
with lost Mayan names
untapped blue
phosphorescences: we've crossed
into the moon zone
the ruined garden
of once-conscious stone: no prisoners
were taken here
and none will be taken-the zero's
revelation-the noon-lave
visions
the prophecy
pent in the molten
obsidian
below: vowed to the maze
of the stars
they chose
and were chosen
to turn into light-to worship
the earth
NAVAJOLAND DAZZLER
A meteor shower for the ages,
coast-to-coast spectacular a dazzler
in Navajoland-streaking fire blazes
all directions, low horizon divers
out of nowhere, brilliant random flashes,
trails of white-hot coals, velvet-black canvas-
I lie back on a red-rock desert bed,
free cosmic fireworks, 3:00 a.m. dreamland
beneath November`s star blanket on fire
Orion, arms outstretched, leaps high over
Tuba City's dunes-bold striding warrior
so peaceful tonight in this time of war-
flares of cosmic music dance the silence
A perfect night, soft cedar-sweet breezes,
wind-wave branches-the Big Dipper towers
on its handle, watering sacred land,
pouring out its bounty of shooting stars
Nearing Palenque / Reflections on Native America, Tom Jones' ninth poetry collection, features both new poems and a selection chosen from five of his published books of poems.
On reading Tom Jones' first collection of poems, No Prisoners (Skeptic Magazine Press, 1976), Archibald MacLeish (also a poet and lawyer) wrote to the author: "You have that rarest thing in the modern world-an ear. And you have been where you have been, which is the next rarest." More than one hundred of his poems have been published in literary magazines and anthologies, including The Nation, The New Republic, and The Yale Review.
Tom Jones has translated the late Spanish poet Miguel Hernandez's poems, Songbook of Absences (The Charioteer Press, Washington, D.C., 1972; reprinted 1980) and, with the author, Dominican Republic poet Rei Berroa's poems, Book of Fragments (Writers Workshop, Kolkata (Calcutta), India, 1992).
An honors graduate of Harvard University (B.A. 1965), Columbia University School of Law (J.D. 1968), and George Mason University (M.F.A. 1992), with undergraduate language and literature studies at the University of Paris-Sorbonne, the University of Madrid, and the Goethe Institute, Mr. Jones worked for many years as an international human rights lawyer while remaining "thoroughly devoted to literature," in the words of poet Colette Inez. He served as Washington representative of Amnesty International from 1974 to 1979 and as a lawyer-delegate on six A.I. human rights investigative missions: Spain, 1975; The Philippines, 1975; Malaysia, 1978; Brunei, 1978; Singapore, 1978; and Egypt, 1979.
In the Fall Term1990, Mr. Jones was appointed Visiting Professor of Poetry at Visva-Bharati University in West Bengal, one of India's six national universities. There he organized and taught the university's first Creative Writing program at both the undergraduate and graduate levels
Mr. Jones is beginning his twentieth year living, teaching and writing in the Navajo Nation, teaching for six semesters at Navajo Community College (now Dine College), four years at Greyhills Academy High School, and since 1998 at Tuba City High School, where he is chairperson of the Language Arts Department. He received the Distinguished Educator Award from the Flinn Foundation in 2000. He was one of ten finalists for the 2003 Arizona Teacher of the Year Award.
Tom Jones has been a Presenting Writer in the annual (fall) Native American Artists and Writers Forums (2000-2005), and the annual (spring) Native American Drama and Fine Arts Festivals (1996-98, 2001, 2003-06), reading his poems and presenting Poetry Writing Workshops. He was "Special Guest" writer at the 16th Rocky Mountain Writers Festival, Pocatello, Idaho (2006).
NEARING PALENQUE

is an 88 page hand-sewn paperbook with spine - $16.00.

TO ORDER:
From the US
From Canada
From Other Countries