Howie Good

Anomalies
Howie Good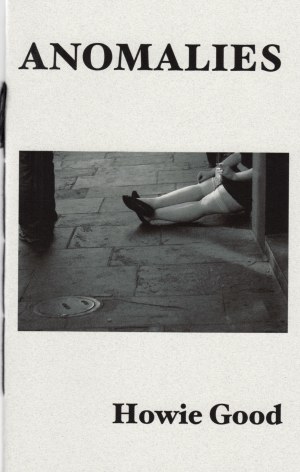 I try not to be ponderous in my poems. I try to avoid clichés. I figure if I can do that, I have a pretty good chance of saying something fresh and real, some part of the truth people can recognize even if they've never seen it before.
From the book:
THERE'S NO MONEY IN POETRY,
SOMEONE SAID
True, but wouldn't you rather
jerk awake to the tom-tom of invisible wings
and later, if the light is right,
watch a river scratch itself until it bled?
And as to the example of those who keep
their feet firmly on the ground,
like a telephone pole, or a feeding trough,
or a tombstone -
when you're in love, you're happy to board
the wounded plane last seen disappearing
over the mountains and never heard from again.
Howie Good, a journalism professor at the State University of New York at New Paltz, is the author of thirteen previous poetry chapbooks, including Death of the Frog Prince (2004) and Heartland (2007), both from FootHills Publishing. He has been nominated four times for a Pushcart Prize and five times for the Best of the Net anthology. His first full-length collection of poetry, Lovesick, was released in 2009 by The Poetry Press/Press Americana.
Anomalies is a 28 page hand-stitched chapbook - $8.00
TO ORDER ON-LINE
From the US
From Canada
From Other Countries
*******************************
AWAY #3
Howard Good
Heartland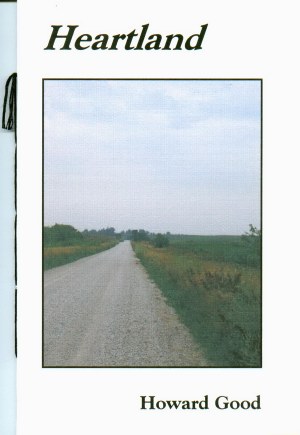 I think of my poems - the better ones at least - as stories. They aren't your usual stories, though. They are more like shards of stories: short, ambiguous, fragmentary. That's because the meaning of things isn't a given anymore, but must be pieced together, often in half-light and after the fact. You and I pass through this broken world, and this broken world passes through us, and if we're interested enough and lucky enough, we might just be able to recover some wisdom, a few poems, an occasional glimmer of beauty from all the waste and heartache and loss.
From the book:
Heartland
That night in the motel I listened
to the sounds of the highway
and the ragged, decrepit rain,
looking in the only mirror,
the face of a stranger staring back,
taut and slightly tarnished,
like the knuckles of a fist,
and thought about the miles,
how far I'd get tomorrow,
to you, maybe, in Grass Lake,
the heartland, but the next morning
when I started out, it was still dark,
and the maps in the glove box
were old and of the wrong places.
Heartland
is a 28 page hand-sewn chapbook - $7.00
TO ORDER ON-LINE
*******************************
Howard's First Book from FootHills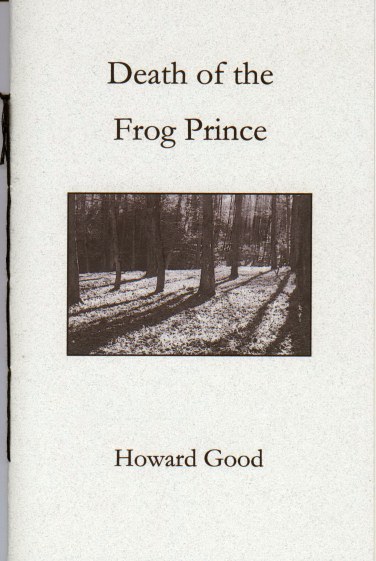 In gathering the poems for this collection, I was surprised to find that I return again and again in them to certain subjects - family, Jewishness, the terrible human penchant for cruelty, the intractability of nature, and the thin, oscillating line between love and loss. But poems are more than their subjects. They are, or should be, experiences in themselves. I hope that the poems here, though few and relatively brief, provide the kind of refreshing experiences that some go to the wilderness, and others to the bar, God, or therapy, to seek.
From the Book:
CUSTOMS
The man in green looks at me narrowly
as if for an explanation of my name, my age,
the half-moons of sweat under my arms.
He asks insidious questions - where, how long,
why - to which I give approximate answers
while my suitcase lies open on the counter
and he bends over the common articles inside
like a doctor delving into a chest wound
to squeeze the small pink ball of my heart.
The line behind me grows numerous,
unaware, or perhaps just unconcerned,
that outside the modern glass terminal,
starving dogs prowl the city in packs
and the smoke of burning tires persists.
The man in green straightens up, nods.
This is whatever sign you say it is,
whatever year of whatever war.
DEATH OF THE FROG PRINCE
Forgive me, frog, for what we did
long ago with our jackknives
behind bunk 6 at Camp Kahagan,
so little blood that it seemed like play
when we stabbed out your eyes
and laughed at your predicament,
11-year-old boys from all over
wiping our blades clean on the grass.
Death of the Frog Prince is a 28 page hand-sewn chapbook.
ISBN: 0-941053-32-6 $7.00
TO ORDER Death of the Frog Prince ON-LINE