doing time to cleanse my mind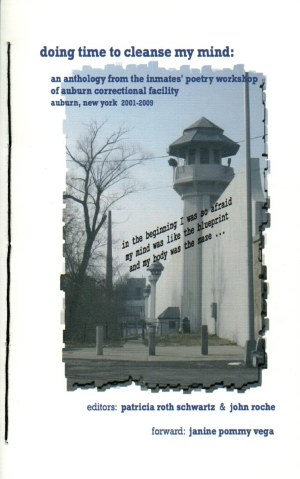 an anthology from
the Inmates' Poetry Workshop
of Auburn Correctional Facility
Auburn, New York 2001-2009
"Listen, America! These poems are the best of what Robert Pinsky's Democracy, Culture and the Voice of Poetry, describes as an attempt to balance our national Memory. Open your eyes, mind, and hearts to the simple, frank, unsettling beauty."
-Vincent F. A. Golphin, PhD, poet, author of Like A Dry Land: A Soul Journey Through the Middle East
"Hearing of my writing class at Albion, well-meaning friends would say, 'How great to be helping imprisoned women find their voices!' Just as Pat Schwartz has, I've met instead inmates with pages of writing, much of it already astounding. In this anthology, one poet asserts, 'No, I am not voiceless...' Indeed! So give these men what they really want to find: not their voices-but your ear, or, in this case, your eye!"
-Karen Anderson, poet and prison volunteer
Monday Night Poetry is special because it's the only place in this petrified world where we can gather round the campfire of our souls and give life to our joy and pain.
-Michael Rhynes, co-facilitator of the Inmates'
Poetry Workshop at ACF and author of
Guerillas in the Mist, and Other Poems...
This unique collection gives voice to those individuals who have been shuttered away. Their voices in turn open a dialogue we all need to think about.
-Dale Davis
Executive Director, The New York Literary Center
Reading the poems in this anthology felt freeing. The fiery, raw, raven-eyed honesty of its incarcerated men's work made me feel less locked inside whatever bars of ignorance, anger, fear, and stereotypes I'm peering through. I am grateful to these poets for the brave dignity of their words-for being my teacher. A dark night of the soul journey, indeed, but one which guides the reader out into a shock of transcending light.
-Susan Deer Cloud, poet, editor
and author of The Last Ceremony
From the Forward by Janine Pommy Vega:
Reading Doing Time to Cleanse My Mind, I realized the poems were created
in the supportive environment of a writing workshop. After ten years and
thousands of manuscripts read for the PEN Prison Writing Awards (PEN stands
for Poets, Editors & Novelists, an international association of writers), I
have learned to recognize poems from whatever confined corner of this nation
someone or some group is actively working on his/her/their craft. The nuts
and bolts are hidden, but the images are nailed in place, and the
imagination leaps out in an arc that touches the reader.
Week after week the writers of this anthology gathered in some corner of
Auburn Prison, brought together by the arrival of a visitor, the poet
Patricia Roth Schwartz. The whole premise and requirement of weekly writing
sessions brought about the inspiration, formulation, creation, sharing, and
thereafter the editing of these poems. They are the works of writers
concerned with the big questions: Who am I? What am I doing here? What is
this society I am part of? What about my loved ones, how can I serve them?
. . . . .
Having read through the contents of this anthology several times these
past weeks, I have earmarked my personal favorites-both writers and
poems-which I will not share with you. Rather I urge you to pick your own.
Novelist Bernard Malamud, who once served as president of PEN American
Center, said, and I'm paraphrasing, that his belief in a fellowship of
writers had to do with fostering "literature as a civilizing force in an
unstable world; a literature that gives flesh and bones and perhaps a brain
to the politics that assail us; a literature that entices us to understand
and value life." That pretty much describes the book you're holding in your
hands
From the Introduction by Patricia Roth Schwartz:
What's it like for a teacher to enter the school where she plans to
teach, not through ivy-covered arches into a sunlit book-lined classroom,
but by passing under a hulking stone entry worthy of a medieval fortress,
then submit to a metal detector, a search of her briefcase, having
previously had a mug shot and fingerprints taken? Then she walks, not
across a grassy campus, but over an asphalt-surfaced walled yard, escorted
by armed guards, past towering turrets manned by gunmen, into a building
sparsely stocked with only basic furniture, no supplies, and peeling paint.
Intimidating? Fearsome? Perhaps… Yet what's it like to find her students pouring into the meager
classroom brimming with eagerness and enthusiasm, clutching sheaves of poems
and stacks of manuscripts they've been working on for years, many
self-educated in subjects ranging from mythology to history to world
religions? Thus began my experience as a volunteer facilitator of an
inmates' poetry workshop inside Auburn Correctional Facility, a maximum
security men's prison first built in 1821, with most of its original
forbidding architecture still intact.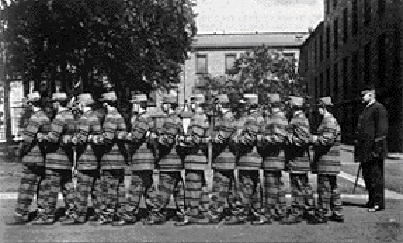 From the book:
AYE YO, LANGSTON
Aye yo, Langston, Langston Hughes, yeah you
let me holla at you playa
who you think you is
who are you to make me thinks
who are you to question me
which in turn makes me question me
who are you to touch my generation
why can't you stay in the past
instead you want to affect my present
so that it uplifts my future
who are you to care
who are you to make me respect & honor you
what have you done to deserve that
well besides that… okay besides that too
ohh yeah, well what else… word… ohh
so you think you the man huh
yeah you do, stop frontin'
in that case, what are you to
want better for me & our people
who are you to make me step up
to be the man I know I can be
the man I want to be
to follow my dreams
to dream even bigger, let nothing stop me
who you think you is
who are you to question me
and make me wonder who am I
-- Jham
DOING TIME TO CLEANSE MY MIND
Doing time to cleanse my mind
from all the evils of Mankind
I've transferred from a slow wit
into an educated Black Poet
once trapped inside an old no good
crime-infested neighborhood
called Far Rockaway.
Doing time to cleanse my mind
from all the evils of Mankind
I've learned to stay away from negativity
and live my life righteously
as I share my heart
through the precious arts of Poetry.
Doing time to cleanse my mind
from all the evils of Mankind
in a classroom at the far end
of a long hallway-
it touched my heart to know
some people aren't afraid
to teach someone
so close but far away.
-Nathan Wheelings
Editor's Note: This poem was written by Nate, at the time age 19, who had been incarcerated since he was 13, illiterate, later self-taught with books his lawyer gave him. The very first night the Poetry Workshop was held, he sat in the back row of the classroom quietly writing this poem, then brought it up to me at the evening's end. About a year later, Nate went home, his sentence completed.
-PRS
Proceeds: The editors of this book are donating all their profits from book sales to the Raven's Wing Fund, which provides free copies to the poets' families and friends and to present and future members of the Inmates' Poetry Workshop at ACF, as well as helping to make possible future publishing projects.
doing time to cleanse my mind

is a 76 page hand-stitched paper book w/spine.
$16.00
TO ORDER ON-LINE
From the US or Canada
From Other Countries