Laury A. Egan

Laury A. Egan
Snow, Shadows, a Stranger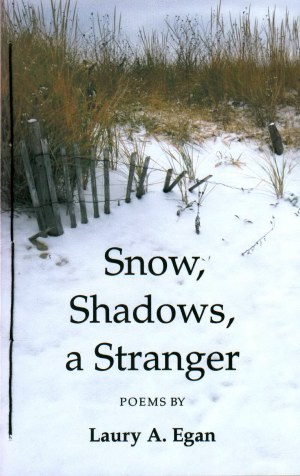 Overviews about a collection are difficult to write, especially since I often focus on tree rather than forest, finding inspiration in a single natural detail and examining it for insights into my emotions, experiences, and memories. My first poem-written at age eight-originated in this fashion, and ever since, the weaving of self and nature into a symbiotic construct has supported me through loneliness and loss, through the blizzards and shadowy periods of life. It has also provided joy and an appreciation for the world's caprices.
Despite this connection to nature, I have always felt like a stranger among people bound by family, faith, and community. My social separateness was frequently painful, but it also forced me to assume the role of observer, to work through isolation by writing, which became my trusted lifeboat, just as nature was a steadfast friend.
Many of the poems in Snow, Shadows, a Stranger explore the dark corridors of the past or anticipate those leading to a final exit; others hover on the narrow ledge of the present. Sometimes my work is enigmatic because of innate reticence or, more often, because I hope the reader will substitute his or her experience for mine, and, in doing so, will realize we are all strangers.
I devote this book to loves lost,
to those leaving or who will leave,
to my own final exit.
With these lines from the opening poem, Laury Egan draws the reader into a stranger's world where she considers childhood hopes and shadowy lovers, the loss and loneliness of middle age, and the awareness of the approaching last stage of life, whispering ominously in the wings. Written with lyric intensity, Snow, Shadows, a Stranger celebrates the forest, field, and sea as the poet weaves her experience of the natural with the emotional and philosophical.
"Hardness fits my hand / carves the contours of my dark hope," writes Laury Egan. Snow, Shadows, a Stranger is indeed often dark. We endure with her "white spikes of lightning" and "tick of sleet." We learn how to survive longing and loss as she has. Her "affinity for shadows" helps us cope with our own. But this is also a book of hope. Her lush imagery of the natural world propels us beyond the shadows; she engages all our senses and we emerge from the book renewed, as if we too were "wild onions greener than new grass." Egan is a woman of courage, hers is a poetic voice unafraid.
-Karla Linn Merrifield, Midst; Godwit: Poems of Canada; and Dawn of Migration and Other Audubon Dreams
From the book:
Midnight
After midnight, snow falls,
draping napkins around dark necks of trees,
licking branches with spits of ice, waiting
for moon's bright enlightenment.
I wait, too, as a trillion frozen flakes compress
into the music of silence, a silence only I can hear
since only those alone can detect soundlessness.
Laurel
The lone child playing in the laurel,
tastes solitude as sweet, believing
her only true friends are trees.
Imagining stories, she hides
within the enclave of shiny leaves.
The child knows who she is,
alone amidst the laurel.
The lone woman looks out upon the laurel,
tastes solitude, but finds it not so sweet.
Although she yearns for new connections
besides her friendship with trees, she hides
within a house, imagining stories,
surrounded by shiny leaves.
The woman knows who she is,
alone amidst the laurel.
Laury A. Egan has traveled to four continents yet always returns to the New Jersey hills overlooking the Atlantic Ocean where she composed her first poem at age eight. For college, she veered into the visual arts, studying graphic design and photography at Carnegie Mellon University. After graduation, she was employed at Princeton University Press as a book designer and later formed a freelance design and photography business.
When Laury was able to semi-retire from these endeavors, she immediately focused on her early passion: writing. Although Snow, Shadows, a Stranger is her first published book, she has completed another collection, The Sea and Beyond, and a chapbook, The Triangle Quartet. Her poems have appeared in The Emily Dickinson Awards Anthology, The Ledge Magazine, Sea Stories, Atlanta Review, Icarus International, The Centrifugal Eye, and Main Channel Voices. In 2007, her long poem, "The Sea," was nominated for a Pushcart Prize. She also writes short fiction, which has been published in journals, and psychological suspense novels.
Snow, Shadows, A Stranger
is an 80 page hand-stitched paper book w/spine.
$16.00
From the US or Canada
From Other Countries