Sueann Wells

Sueann Wells
Awake Before Dawn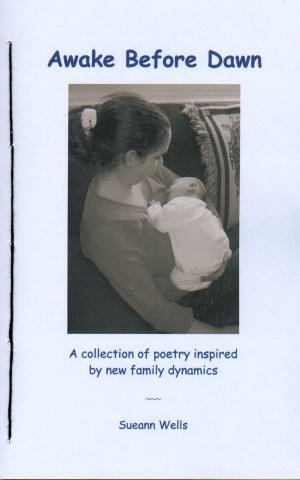 This volume was written over the first year of my firstborn daughter's life. I felt rather connected to the mother muse within, and wanted to capture her essence in this poetry. I have since grown, as has my daughter and my family as a whole, but I feel compelled to share this poetry nonetheless. There is a certain purity to a new mother's (or a new parent's) discoveries and trials by error.
My greatest lesson over the first year of my daughter's life (and that we must constantly remind ourselves yet as she approaches unconquered hurdles) is: One `off' day (or week) does not an irreversible bad habit make.
My aim is to touch a chord within the parent- or parent-to-be in all of us. May some word in this volume touch your heart as it has in its release from within me. Have a great day!
Sueann Wells is a Rochester, NY area native who could never wander too far. Instead she has made a home and family with the love of her life. She is currently taking a break from her adjunct English teaching at Rochester Institute of Technology and Finger Lakes Community College to welcome her and her husband's second daughter. Life is a whirlwind and Sueann strives to appreciate each day as it comes. She serves as Treasurer and Newsletter Editor for her local MOMS Club, with which she and her daughter have a blast getting out and about the area.
Sueann holds a BA from SUNY Geneseo, an MSEd from SUNY Brockport, and is currently applying to PhD programs to further her academic opportunities. Her nonfiction works have been or are in the process of being published across the country, and she has presented papers at national and regional conferences, specifically focusing on the topics of women and minority literature within the United States. She is also a member of Just Poets and other small writing groups around Rochester, and looks for ways to enhance her literary mind whenever her schedule will allow. Her first volume of poetry, Midnight Summons, was published under the Springfed Chapbook Series of Foothills Publishing in 2006. This is her first themed collection.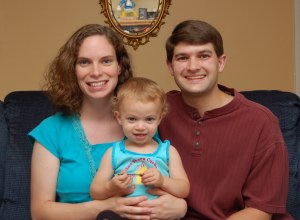 From the book:
Patience is a virtue
Books strewn about the floor
willy nilly
board books picture books
German books Spanish books English books
classics newbies
the entire shelf of 20 30
lying precariously upon hardwood
instead of orderly on their shelf
You smile widely innocently
I overreact
only see the huge clean-up job
on an already-stressed morning,
don't see your pride
see a mischievous,
insubordinate
child.
How can you be insubordinate
you're not yet two.
I must pause
no matter
what else happens that day
and think
what you might be thinking.
Patience, my dear mommy,
Patience.
Bounding high
You stand
erect:
chest out
head back
knees purposefully high
You shriek to high heaven
as you jump
full body
from cushion to cushion
sinking distinctively lower
every time your feet pounce
on the center one,
more smooshed with use.
You plant your face into cloth
at either end
as you chortle
full-throated
with glee.
Awake Before Dawn
is a 60 page hand-stitched paper book with spine.
$14.00
From the US or Canada
From Other Countries
********************************************************
Midnight Summons (2006)
Sueann Wells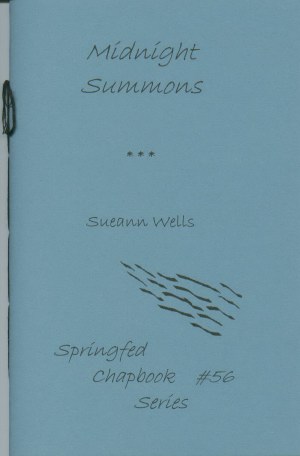 From the book:
Power
Lying here in my padded room
I see no escape.
Colors swirl around me,
no refuge,
constant movement.
I need no entertainment.
A light above - shiny, fluttering objects:
Angels to take me away so early?
I'm so new, though, not yet grown.
She cradles my innocence,
not knowing.
No Escape.
I'm here,
stuck,
whatever may happen.
She thinks she knows best;
I know she's mistaken.
I'm not ignorant.
Absorbing all, I see more than she,
more than most,
maybe more than all.
An omniscient observer,
I feign helplessness for my own benefit.
Why do for myself when others are willing?
I cater to their desires,
Giving them a cute smile on cue;
Make them swoon, gush for me.
I cherish the moments of power.
I am no devil,
but no angel.
I am me.
They all try to understand me:
my words, my needs, my desires.
Foolish - they never get it right.
I long for the one thing they can not give.
Give me freedom or leave me alone!
They think I cannot live without them.
My mind whirls to think of that life…
Oh, the possibilities!
But lying here in my padded room,
I try to enjoy the colors,
the sounds,
the movements,
And I repress the urge to scream!
Hand-stitched chapbook.
Six Dollars.
TO ORDER Midnight Summons ON-LINE