Holmes

Tom Holmes
Pre-Dew Poems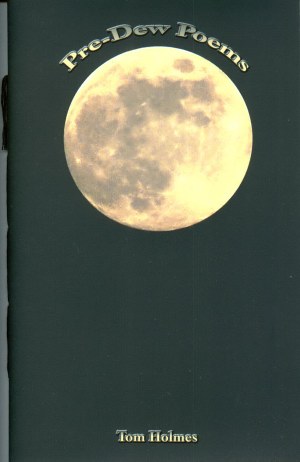 Tom Holmes's Pre-Dew Poems possesses a masculine rawness that masterfully rides on the edge of sentimentality, but is restrained just enough not to cross over. When I read Holmes, I want to strip my world of excess. These poems shine a light through the haze of minutia and remind us of what truly matters.
-Dan Morris, author of Following the Day
At last, a man who can express love without getting me sick. I'm sure the poems speak on some sappy personal level for Tom, but to me they express love in the universal. These poems confront the myths, the imaginings, and the realities of love. Pre-Dew Poems is fulfilling, like a good fuck.
-Semlohsa Moht, former Poet Laureate of the former Gegôré
From the book:
The Man Who Counted Away
He served his time inside a mountain cave,
chained between stalagmites.
His hair had grown to moss.
His body had turned to mold.
Each morning like a prayer,
he cursed the town below -
even the ones who gave to him
bread & jugs of wine.
At noon he sang of losing love,
& also of patience & proving.
At night he counted the stars
from what he could remember.
Across the town his legend grew
as The Man Who Knew of More.
Each night the people came to hear
the long invention of numbers.
Each night they cleansed his body & hair
`til his skin shone clean,
`til the blonde of his hair returned.
Each successive night he counted fewer.
Then one night he did not count at all.
One night he was not there -
no footprints in the dirt,
just rusted chains without a broken link.
The next morning a woman came alone.
She sifted the dust, imagined it as stars -
"I knew that he would count them all.
I had hoped he would count the last with me.
Now I'm left with his nothing.
Just dirt like a pile of memories,
& all the uncountable mornings
as proof that love can't wait another day."
Tom Holmes is a co-founding, co-editor of Redactions: Poetry & Poetics. He is author of After Malagueña (FootHills Publishing, 2005), Negative Time (Pudding House, 2007), and Poetry Assignments: The Book (Sage Hill Press, 2008). His work has also appeared, or is forthcoming, in such journals as the South Carolina Review, Raintown Review, Rockhurst Review, Mid-American Review, Blue Earth Review, Chiron Review, New Zoo Poetry Review, and many other journals that don't have "Review" in their title.
Pre-Dew Poems
is a 40 page hand-stitched chapbook.
$8.00
TO ORDER ON-LINE
From the US or Canada
From Other Countries

After Malagueña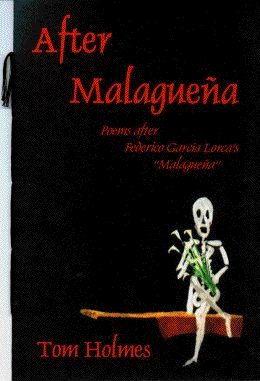 Poems after
Federico García Lorca's
"Malagueña"
Tom Holmes is a co-founding, co-editor of Redactions: Poetry & Poetics. His works have appeared in the anthology September 11, 2001: American Writers Respond and in a handful of journals, most recently Terminus. He has earned an MA in Literature from SUNY Brockport and an MFA in Creative Writing from Eastern Washington University. He currently survives in Spokane, Washington, with his wife, Michelle Bonczek.
Comments about the book:
Tom Holmes' Lorca-inspired and Death-suffused Malagueña sequence reads as a single poem, hypnotic in effect and delivering us to where "there's a smell of salt / and women's blood / from the feverish flowers / by the sea"; to where "there are mounds of dung / & lamb's wool / piled in the seas / flooding the world". Each section is a further location of this place in us where Death, who "sleeps / with orchids", resides, the place of poetry itself.
-William Heyen
After Malagueña is both a deft formal homage to Lorca's moody poem and a shrewd reinvention of it in contemporary guise: "there's an odor of sex / & rotting fish / from the beach / across the street // Death comes / once a week / to sing…." In this stark, vivid sequence, Tom Holmes touches us with a hand as chilling as it is true. As the best poets always do, he sings not against death, but with it, reminding us of what we know.
-Stan Sanvel Rubin
Tom Holmes has written a wonderfully comic and powerful invocation of Lorca in After Malagueña. Death appears in the most outrageous of places, not just in the bar of Lorca's poem, but at a wedding, in the courtroom, and in the school where he "stays late / to clean erasers"-what wonderful irony: the great eraser cleans erasers! And in all the humor and close quarters of Lorca's original form, there's a dark reminder that Death is coming and leaving, and a reminder, too, of what poetry can do.
-Gerry LaFemina
First Tom Holmes resurrects Lorca's character Death in a new translation of "Malagueña," then he follows as Death strolls from the bar in which Lorca found him out into a world as familiar and proximate as the grass stains on a child's dress and as strange and obliterating as the seas flooding the world of our dreams. The patterns of these poems' music comes in large measure from Lorca, but this is Death as Holmes knows him-revolutionary, educator, wedding guest, gig singer, unearther of orchids. This is a wonderful series, as companionable as it is haunting, and it marks the debut of a powerful new talent.
-Jonathan Johnson
Who says you can't quarrel with a translation and praise a new poet's riffs on Lorca-all at the same time? In After Malagueña, Tom Holmes gives us twelve sharp and disturbing ways of looking at Lorca. It's good to have this new and intriguing work among us.
-Greg Glazner
Table of Contents
Preface 7
Malagueña
(Federico García Lorca) 11
Malaguena 12
Death's Gig 13
Death Keeps Tabs 14
Til Death Do Us Part 15
Death Finds Religion 16
Death Educates 17
Death Goes Downtown 18
Death Draws Attention 19
Death Tries Usury 20
Death Has His Say 21
Death Decorates 22
Death Sleeps 23
From the book:
Malagueña
La muerte
entra y sale
de la taberna.
Pasan caballos negros
y gente siniestra
por los hondos caminos
de la guitarra.
Y hay un olor a sal
y a sangre de hembra,
en los nardos febriles
de la marina.
La muerte
entra y sale,
y sale y entra
la muerte
de la taberna.
by Federico García Lorca
Malaguena
Death comes
to the bar
& goes
passes the black horses
& people fated to paths
with hollow guitars
& there's a smell of salt
& women's blood
from the feverish flowers
by the sea
Death
comes & goes
from the bar
Death
goes & comes
ISBN 0-941053-63-6
After Malagueña is a 28 page hand-sewn chapbook - $7.00
TO ORDER After Malagueña ON-LINE
Thank you for your support!