Landsman

Peggy Landsman
To-wit To-woo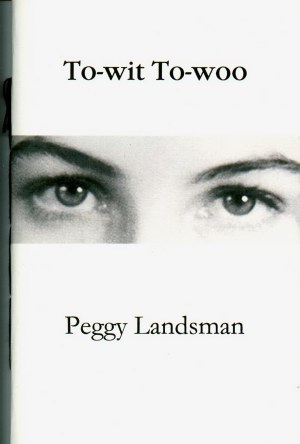 From the book:
Bowling Green, Sewing Machine!
Along the street and under the stars,
I'm making my way to the 7-11.
Solano Avenue seems suddenly endless.
I have a lot on my mind.
I'm in love. With you, Allen Ginsberg.
And I couldn't care less!
So, you are gay; I am straight.
We're both poets.
Oh, Allen, you must listen.
You've no idea. We have so much in common.
You love sunflowers; I love sunflowers, too.
I know where they grow like natural Van Gogh
Along the winding streets of Berkeley.
There are so many secret gardens!
And now the moon blooms--almost full.
Come on, Allen. Won't you, please, play your harmonium.
Such music goes perfect with jasmine perfume.
Mantras linger in the air...
Om...I'm remembering:
1968; NYU; You're on stage; How you sing!
Songs of Innocence and Experience.
I'm one among the audience.
Your wild-man hairs are corkscrewing around,
Exposing your loneliest fathers' traditions.
My own long hair keeps pulling me forward....
Look up. We're under the BART overpass.
And now, let's sit down. There's no law against it.
There's something I need to discuss.
I take it for granted no subject's off-limits;
No pride can come between us.
Come on. Sit closer. Face to face.
Let me look deep into your four eyes through mine.
If we wore lenses ground by Spinoza,
What are the odds? Would we be smarter?
So you are a Buddhist; I'm only me.
We are that we are. We both are.
Sometimes I can find no way out.
I feel trapped inside my own skin.
I wander lost in my tiny apartment;
Believe me, it's not labyrinthian.
It's more like the closet
Young Jesus said
We should do our praying in.
My one prayer. My only prayer.
That all my failures are worth all their trying.
But tonight is young and the Häagen-Dazs beckons!
In and out of the 7-11...It's so easy...I float...
Where are you? Oh, Allen! Why do you disappear?
I must walk home now
Soliloquizing
Under this summer solstice moon.
So what if it's true everything is connected!
So what if it's true everything counts!
Quick. Look. Lick my fingers.
This pint of coffee ice cream
melts.
Peggy Landsman is a poet whose work has been widely published in both print and online literary journals and anthologies. This is her first chapbook. She lives in Pompano Beach, Florida.
To-wit To-woo
is a 28 page hand-sewn chapbook - $7.00
TO ORDER ON-LINE