FootHills Publishing
|
home


Listening to Water
The Susquehanna Watershed Anthology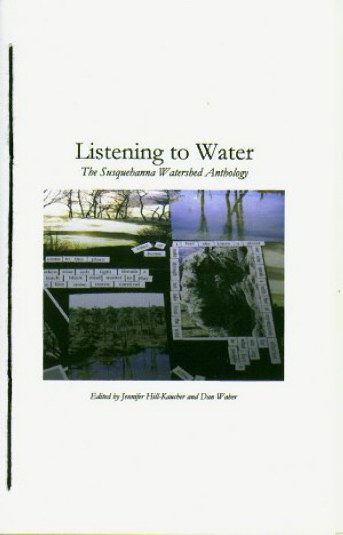 Edited by Jennifer Hill-Kaucher and Dan Waber
Cover Art by Christine Goldbeck
Introduction
We were sharing poems our favorite way, among friends, over beverages, within the slow swirl of an autumn breeze, at the dining room table, when Michael asked us if we'd be interested in editing an anthology for him and FootHills Publishing. Sure, we said, what sort of anthology? Michael went on to tell us how he thought it would be appropriate to put together an anthology of poems from the Susquehanna Watershed area, because that's what FootHills' first book had been, almost 20 years ago. Who would dream of saying "no"?
In the process of putting together the collection you now hold in your hands we used several criteria. First, the poems selected had to strike us both as being excellent poems. Second, the excellent poems had to be emblematic of the anthology's area of focus, the Susquehanna Watershed. By "emblematic" we mean that they had to perform the dual function of making residents of the area say "yes, that's us all right" and allowing non-residents to say "oh, now I understand the region better." Third, the excellent, emblematic poems had to blend organically with the other poems selected. We didn't want to assemble a collection that throbbed with flashpops of disconnected poems. We wanted to assemble a collection that flows, like the Susquehanna herself - an anthology that twists and winds its way, surely, into every aspect of the lives of the people of an entire region.
Here's to 20 years of FootHills Publishing, and here's to 20 more.
Dan Waber & Jennifer Hill-Kaucher
Editors
Contributors
Karen Alpha

Darran Anderson

Richard Aston

Ron Bailey

Daniel Barbiero

Karen Blomain

Elizabeth Cohen

Steve Concert

Craig Czury

Todd Davis

Susan Deer Cloud

Joseph Farley

Lynn Fetterolf

Sheila Forsyth

Bo Frank

Christine Gelineau

Jules Gibbs

Christine Goldbeck

Howard Good

Peter D. Goodwin

Ray Greenblatt

JoAnne Growney

John Hutchinson

Helen Dendrinou Kolias

Peter Krok

Amy Laub

Susannah Loiselle

S.A. McLaughlin

Wynne McClure

Erin Murphy

Nancy Rekow

John Roche

Helen Ruggieri

Alexander Saliby

Gerald Schwartz

Joe St. Martin

Elaine Terranova

Heather Thomas

Kathleen Van Schiack

Paula Weld-Cary

Jerry Wemple




Contents
Introduction




SPIRIT




Listening to Water

Beginnings

Creek

Creek II

What a Stone Doesn't Know

Natural Signs

Earth Overcomes Wood

A Kind of Susquehanna

Sun on the River

Passing Through The Alleghenies

Bumbershoot

Under the Black Diamond Trestle




WILDLIFE




What's Left

Summer Song

One Early Morning

drops

Three Tides

Poem Written on the Surface

of the Little Juniata

Ant Massacre on Laurel Lane

Firefly Mind

paddling the Susquehanna

Odyssey

Near Seacaucus, New Jersey




HOME




Coming Home to York Pennsylvania

Reservoir

talking land

Nighthorses

Sic Transit Gloria Mundi

Blood Route

Relocation

Cultus







CHARACTER




Sink Boat in the Marshes

Crossing Juniata Creek

Women of St. Michael's

Aunt Dot

Slifer Family Photograph, 1867

Nana's House

Summers

Historical Calendar: Union County, PA

Part of me Lies in a Broome

County Cemetery

The Rivers And The Seas




HISTORY




Sojourn

The Potato Feast

I'll Build a Steamboat

Waiting for the Ferry

Shikellamy At Shamokin

Looking for Cornplanter's Grave

Verhexed

Endicott

The Aftermath of Agnes




SEASONS




Talking with the Artists about

the Seasons

Paths

Breaking Ice

November Ecstatically

Edge

Spring Flood

Sunbury, Pa., 1957




Biographical Information on the Poets




ISBN: 0-941053-97-X
Listening to Water
is a 100 page hand-sewn book with spine - $16.00
TO ORDER ON-LINE
Contributors Order On-Line here: