FootHills Publishing
|
home


Kay Mullen
A Long Remembering
Return To Vietnam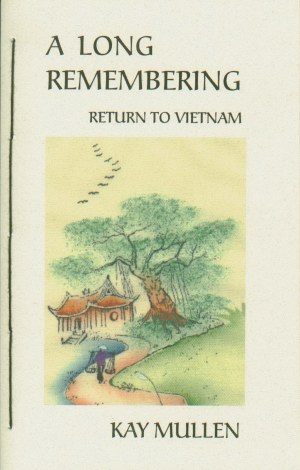 This work is dedicated to the fifteen young adult adoptees, and to the parents and friends who accompanied them to their Vietnam homeland in 2000, twenty-five years after the war.
During America's war in Vietnam, two nations suffered parallel traumas. Kay Mullen and her husband A. J. wanted to ease some of the suffering, at least for one person. They adopted a son who left Vietnam on one of the last flights at the end of the war. As a young adult, their son returned to Vietnam with his mother and father. These poems tell of that journey, its beauty and sorrow. Compassionate and forceful, these poems show us part of the complex legacy of war, the complex process of healing.
Peggy Shumaker

With the adoption of a Vietnamese child, Kay Mullen seems to have taken into herself the tragedy and beauty of his country and culture. Many of her poems appear to have been influenced by the poetry of the East, as well. In their compressed, simultaneously stark and lovely images, we find worlds of complexity. I am moved by this soul-enriching, exquisitely-rendered work.
Susan Ludvigson
Kay Mullen's poems in A Long Remembering: Return to Vietnam retrace a journey taken through time, through foreign lands, and through the human heart. In these wise, lyrical poems, she weaves and reweaves many strands to create a tapestry of lives changed forever by war, by loss, and by love.
Nancy Rekow
From the book:
A Long Remembering
The days of my life are few enough.
Turn your eyes away, leave me a little joy
before I go to the place of no return.
Job 10
1975: Two miles from Tan San Hhut Airport,
a cargo plane ascended, loaded with children.
A pressure door broke away, cables severed.
The plane crash-landed in a rice field.
2000: We walk through weeds,
holding clusters of colored balloons
with names attached. At the site,
incense sticks mark the place with prayer.
Tibetan chimes ring for infants, children, adults.
Three in our midst, survivors.
Sky fills with color as names are read,
Anh Tinh, Phuong Lange, Be Lowe-
Out of your smile will bloom a flower.
Songs, chants, Vietnam will rise
and from her sufferings birth a new
soft cradle for the Buddha-to-Come.
We honor each woman who perished, her price
far above rubies. One poem addresses a child
the mother will never know, a flame of hope
burned out with the wind.
Three join hands in a long remembering.
A Boeing 747 descends for landing.
A farmer burns a nearby field.
Dry reeds crackle, thick smoke swirls.
Bonsai at the Potter's Stall
Under florescent light,
aligned on a bench
and table top; oranges
the size of marbles dangle
from trees with glossy
leaves. White trumpets
bloom in tiny clay pots.
Under a firethorn's twisted
limbs, a three inch monk
holds a cup from which
he appears to drink
the interior life. The potter
prizes his bonsai children
who will never grow up,
never leave home.
Kay Mullen lived for twenty-five years in Renton, Washington, who, with her husband, A.J., raised two sons. She now makes her home in Tacoma. She is a former teacher and school counselor. Kay's first book of poems, Let Morning Begin, was published in 2001. She is completing her MFA from the Rainier Writing Workshop at Pacific Lutheran University.
ISBN: 0-941053-94-6
A Long Remembering
is a 76 page hand-sewn book with spine - $15.00
TO ORDER ON-LINE