FootHills Publishing
|
home


A Vision of Beauty
Michael Costanzo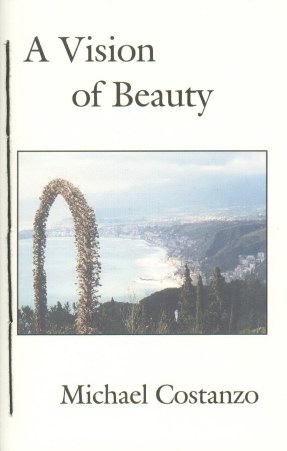 Michael Costanzo was born and educated in Sicily (Italy), where he taught from 1962-1970. At the end of 1970 he came to the USA to join his parents and family, already living in Rochester since 1962. After receiving a PhD in 1979 and a Doctorate in Biblical Theology in 1987 from the University of St. Thomas in Rome, he returned to Rochester and began teaching at St. John Fisher College, Nazareth College, MCC, and BOCES. He has been a full time teacher in the Department of Religious Studies at St. John Fisher since the Fall semester of 2001.
Table of Contents
The Matins of Saint Clare
(It was Spring)
(The Wind blows over)
In search of Thee
(The seagulls fly in the shady light)
(Que toma, usted?)
"Pour toi que J'aime"
Threnody
To Life
(Terse the sky dresses, with the azure)
(Suddenly, o Sylvia, evening falls)
Epigram for Sharilyn
Good Friday 1977
for Colleen
(These are the colors of youth)
(My eyes shed no tears)
To Mademoiselle La Vie
(The sun was scorching hot)
for Sue
(Your happy memories dance)
A moment of madness
Graduation
Life dreamt by colors in trinities of candles
A psalm
for K.B.
for Kathie
(A rainy day)
To an adolescent dancer
When Love returns to sing…
Spring Day
Stillness
(When your cup of joy is empty)
Adriana
Fragment of Memory
(The lulling melody of Torelli's Christmas)
(A desert street)
Juliet
Blessed are the poor
Kiss
Glendalough
Spring
From the book:
The Matins of Saint Clare
Saint Clare, the bells are singing
that sweetest herald the morning,
A-singing are the bells
that usher Dawn,
The bells that gently
break in the Day
freshly spun by the pure hands of God.
Matins!
You rise from your bed of straws
and on your cheeks, Saint Clare
splendid is the color of your joy,
in your love-shining eyes
you hide the secrets of your soul,
and God mysterious
walks your way
and leads your steps.
Matins!
You take your place with gracefulness
and chant sweetest melodies,
and your mellow voice weaves
with the somber harmony of the Choir
the pungent notes of your love.
He that gives you Dawn
heeds your praise and sighs for joy.
In the brisk air of early morn
sweet is the sound of your song;
the purest dreams of your love
ascend to the throne of God
with the springing waters
of the fountains in the garden.
And your vision, Saint Clare,
is of eternal glory.
{After Respighi's impression, The Matins of St. Clare,
from the musical frescoes "Church Windows"}
ISBN: 0-941053-85-7
A Vision of Beauty
is a 52 page hand-sewn book with spine - $12.00
TO ORDER ON-LINE