FootHills Publishing
|
home


Naming the Colors
Karen Bashkirew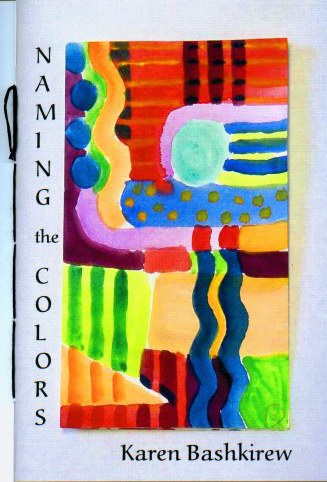 Cover Art by Thomas Rohnacher
Naming The Colors is a memoir collection, a sketch of a life in twenty poems, each one a touchstone calling forth a significant person, place, happening or moment that has marked the way and colored one life.
Karen Bashkirew lives with her husband and an old dog named Moonshine in Emmaus, Pennsylvania. Her work has appeared in various journals, including Atlanta Review, Byline, Passager, Phoebe, Schuylkill Valley Journal Of The Arts, and Encore, the annual NFSPS anthology of contest winners. Her poem, "Sounds," was set to music by Suzzy Roche and is featured on the CD, Zero Church. Her first chapbook of poems, titled Standing In The Sky, was published in 2001. She is also a writing tutor, perennial student, and mother of a grown son.
From the book:
I know that nothing has ever been real without my beholding it.
...I want, then, simply to say the names of things.
--Rainer Maria Rilke
NAMING THE COLORS

I walk into the shout
and ache of autumn,
into the leafy church where sun
lights the living stained glass,
and I begin to name the colors,
chanting them like litanies
learned long ago.
crimson, copper, claret, plum
Our Father Who art in heaven,
hallowed be Thy name...
burgundy, fuchsia, ruby, maroon
I believe in God the Father Almighty,
Maker of heaven and earth...
cinnamon, scarlet, russet, rust
The Lord is my Shepherd;
I shall not want...
amethyst, emerald, orange, gold
May the Lord bless you and keep you,
make His face to shine upon you
and be gracious unto you....
I drink down the shout and the ache,
let them do their work in me,
coloring my pale, deepening my hue.
For this one hour
I claim bold shades
of spice and gems,
of fruit and flame,
of wine and blood.
ISBN 0-941053-81-4
Naming the Colors
is a 28 page hand-sewn chapbook - $7.00
TO ORDER ON-LINE