FootHills Publishing
|
home


Kip Zegers
Walt's Last Stand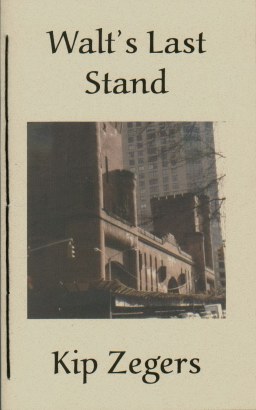 We have published poetry of Kip Zegers and most recently an NDQ Sea Changes essay by him on the American poet George Oppen. Now Mr. Zegers has published a prize-winning chapbook of poems The Landmark. Not only are the poems individually good, but also collectively they are a vade mecum for English teachers and would be English teachers. The poems quietly and effectively come from his initiation to teaching young students in Manhattan high schools.
Seldom has teaching been so poignantly described, including the little triumphs and failures that mark (or landmark) it.
Beginning a class,
"There is silence / and the long stare. To be a promise
is easier / than to keep the promise in these faces, / still it is time. // I stand beside my desk / and I recite the names."
(from "Calling the Roll")
Hamlet, Dickens, Thoreau and Dickinson are here too, but the unnamed young are the stars of these short poems, each a lyric narrative.
Robert W. Lewis, Editor,
The North Dakota Quarterly
Kip Zegers was born in Chicago, in 1943, and educated there in the Catholic schools. He attended John Carroll University, Northwestern University, and Union Theological Seminary.
He came to New York City as a VISTA Volunteer in 1966, was a Conscientious Objector during the Viet-Nam War, and afterward began writing poetry. After 15 years he trained as a teacher at Hunter College of the City University of New York, and began teaching at Hunter College High School in 1984. He was named an outstanding educator by the White House Commission
on Presidential Scholars in 1992.
His previous poetry publications are:
Backyard, a West End Magazine Edition, Vol. 3, No. 3
(New York), 1975
Tell Me A Story, Juniper Book #39, Juniper Press
(La Crosse, Ws.), 1981
The Street That Teaches Everything, Slow Motion Press
(Brooklyn), 1983
The Promise Is, Humana Press (Clifton, N.J.), 1985
The American Floor, Mayapple Press (Saginaw, Mi.), 1996
The Landmark, Two Rivers (Clinton, N. Y.), 2003
From the book:
The Landmark
Brick wall with two squat turrets rising
from the avenue, a Landmark. In its shadow
a school. "They'll teach you how to teach them
if you listen. What they need of what you have
will be obvious." Standing in the men's room
I checked my fly, my teeth, I said,
"You have a right to be here."
No one heard, and I went out there
like a poem goes: first you do it,
then you fix it, then you fix that. "You need more
muscles in your manner," someone said, it was
the second year. Bricks rose from the avenue
streaked with what seeps through them over time.
Walt's Last Stand
I walk in with "A Child Went Forth,"
a poem Whitman made
out of the oldest fear there is.
"I found this," I said,
When the world
was nothing and the night
had opened
and called my secret name.
You can trust this poem."
These students consider the possibility.
They are, after all, going forth,
even as they sit in a circle.
A girl, a good kid, says, "you do realize
that while we were home reading this and
writing our own poems we could have been
out living, you know that, right?"
And what of Whitman,
who said he would wait for us,
somewhere, underfoot, in the air?
He became his words
that became pages printed
and reprinted. That they might speak
is what they are, and this
is as far as they can go alone.

ISBN 0-941053-73-3
Walt's Last Stand
is a 76 page hand-sewn paper book with spine - $15.00
TO ORDER ON-LINE